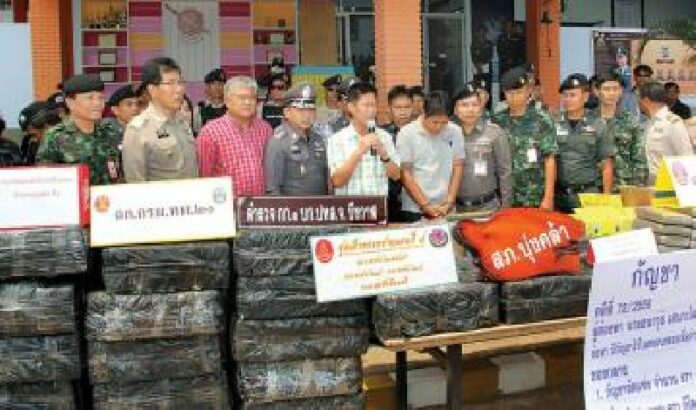 The cargo was intended to be sold during Songkran.
Police say they have seized 871 kg. of marijuana from in Mukdaharn province. The cargo, estimated to worth at least 30 million baht, was hidden in 26 sacks and laid under crates of apples on a pickup trucks, according to police.
Mukdaharn police representative says the force received reports on April 7th that the cargo was being smuggled from Laos across Mekong River. Receiving assistance from the military and local civil servants, the police attempted to intercept the vehicles but the suspects managed to slip past the first checkpoint. A brief pursuit ensued before a suspect was eventually arrested at Baan Nhong Dern Nuea temple while others are still on the run.
The arrested suspect, Mr. Thanawut Sanohsode, 31, said he and his accomplices were paid 50,000 baht to smuggle the marijuana to a dealer in Pathumthani province. Mr. Thanawut said the marijuna was to be sold in major tourist attractions throughout Songkran holiday season.