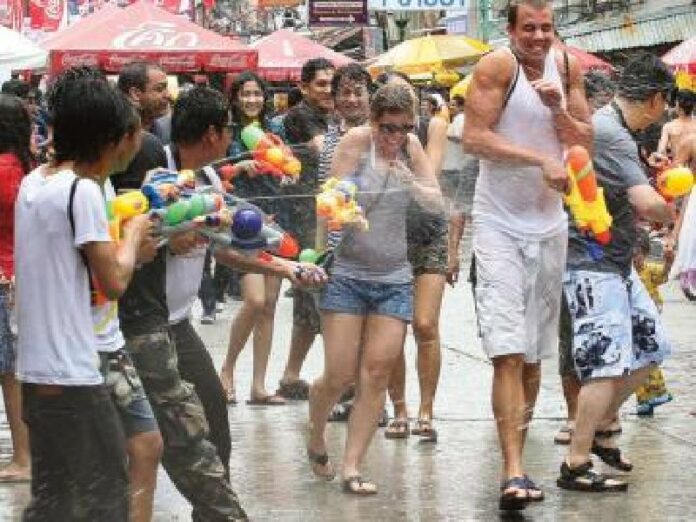 (30 April) Minister of Tourism and Sports said the authorities could establish a nighttime, bilingual court dedicated solely to solving crimes that involved tourists – a move he hoped could make Thailand a safer place for foreign visitors.
Mr.Somsak Pooreesrisak yesterday visited the Tourism Authority of Thailand (TAT)
headquarters to lay down management policy for the Authority, where he also held a press conference
on the establishment of tourism court, along with other top officials, including the Governor of the
TAT.
Mr.Somsak said that from following the news and the complaints of the public, he has
decided that his first act as minister will be to take care of the safety of the tourist because
even if tourist destinations are beautiful, if they are dangerous then people would hesitate to
visit.
From talks with persons involved, it is agreed that safety is of utmost importance
since one of the main income of Thailand is tourism, Mr Somsak said, To keep up this income,
attention needs to be paid to the process of judgment. If a situation shall arise with a tourist,
the court needs to be able to deal with the problem while that tourist is still in
Thailand.
However, he added, the process of establishing the court needs to be done via a
legislation, which requires a lot of time. For its initial state, a division of tourism should be
established, providing a night court which is financially supported by the Ministry of Tourism and
Sport, since the staff will have to work overtime.
Apart from this, the tourism court can
process criminal and civil trials at the same time, allowing the cases to progress more quickly, the
minister said.
"For now, we still don't know how much funding is needed. In its initial
stages, the court might not be nationwide, but will only cover provinces with a lot of tourists such
as Pattaya, Phuket, and Chiangmai, factoring in the readiness of each province. Prosecutors can work
fast while a bilingual judge, with expertise in tourism cases will be appointed.", Mr. Somsak said
in the press conference.
Mr.Suwat Sitilor, the Permanent Secretary of the Ministry of Tourism
and Sports, said that as Thailand enters the ASEAN Economic Community (AEC), there will be more
tourists from the 9 countries, adding to the massive amount of Chinese and Russian
tourists.
Mr. Suwat said that he was still not happy with the safety of these tourists since
some problems of businesses taking advantage of tourists still remain.
For every 100,000
tourists, Mr. Suwat said. there should be no more than 20 problematic cases.
Mr.Surapol
Sawetseranee, the TAT Governor, meanwhile, urged the government to standardize business owners in
order to improve service for tourists. The Governor pointed out that for cases whose criminals were
quickly apprehended, negative news about the country significantly dies down.
Thailand is
quite safe and not too many crimes happen to tourists each year, Mr. Surapol said, ut we still
need to reduce the number of problems as much as possible.