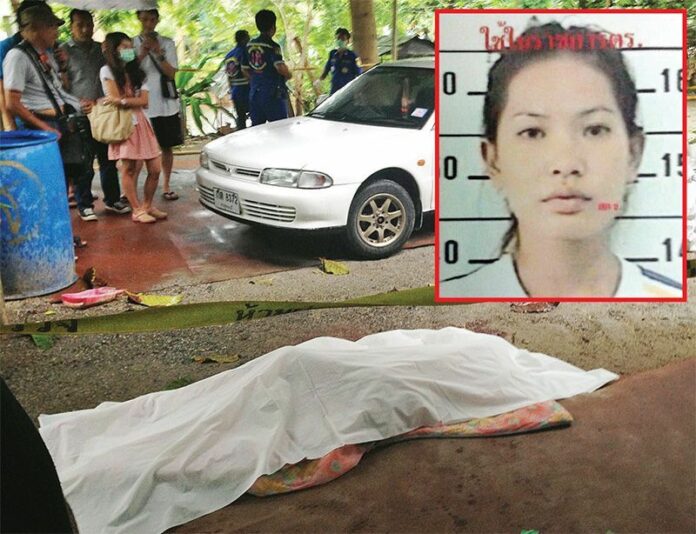 (24 September) A resident of Kanchanaburi Province reportedly shot dead his former lover who refused to resume her relationship with him.
On the morning of 23 September, Ms. Sureethip Maentim, 24, a niece of Thamuang District′s Headman, was found dead at her uncle's farm.
Mr. Thinnakorn Chindaponse, 51, a member of the crew, who has found Ms. Sureethip's body, told police that Mr. Wirach Yeethohun, 48, the caretaker of the farm lived nearby, but once the police arrived at his residence, Mr. Wirach was not present.
According to Mr. Thinnakorn, a gunshot was heard at around 01.00 the previous night prior to the incident. However, he did not suspect any wrongdoing, as Mr. Wirach has a habit of shooting late at night, and there is also a movie set situated nearby.
The victim's mother, Ms. Bamrung Khongpum, said that she suspected Mr. Wirach had murdered her daughter. She said Ms. Sureethip had been in a relationship with Mr. Wirach, but she later broke up with him because of her family′s disapproval.
Ms. Bamrung said Ms. Sureethip was about to marry an owner of an orange orchard from the South.
She also mentioned that Mr. Wirach had vowed to kill her daughter on her wedding day. On the night before the incident, she said, Ms. Sureethip had told her family Mr. Wirach had called her to arrange a meeting where they could discuss their problems.
Ms. Sureethip reportedly drove out to meet Mr. Wirach at his farm despite her family′s protests. Police believe he had shot Ms. Sureethip in the back at the farm.
The police are still trying to locate Mr. Wirach.