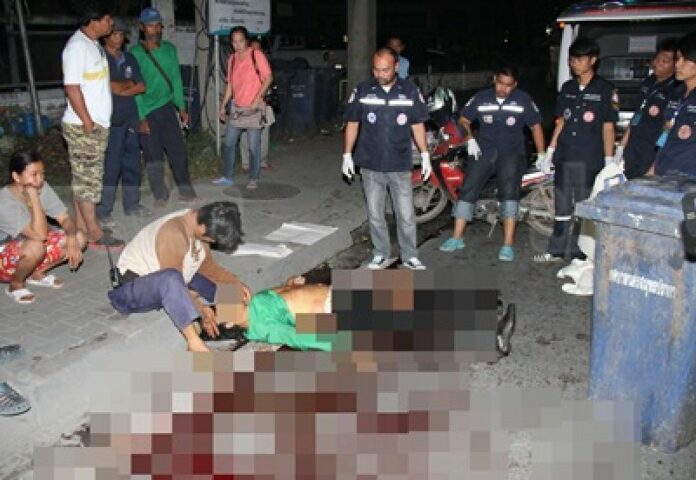 (2 October) Police in Mueang district of Samut Prakarn province said a garbage collector had been stabbed death by his colleague as they were performing their duty earlier this morning.
↵
Fellow garbage collectors had been holding an 18 year old suspect, who is also the nephew of the victim, when the police arrived.
The suspect confessed that he had killed his uncle, Mr. Satit Sae-huam, 40, explaining that he and Mr. Satit often engaged in fights, because Mr. Satit liked to scold him while they are at work.
At the time of the incident, the suspect said that Mr. Satit kept complaining and insulting him, causing him to be angry and leading him to throw a rubbish bin at his uncle. The suspect claimed that Mr. Satit became enraged and attempted to fight him, so he pulled out a knife and stabbed the man in self defense.
Mr. Satit was pronounced dead at the scene. Other staff held the suspect, preventing him from fleeing the scene, until officers arrived.
Another fellow garbage collector told police that the occasional fights between the pair had become a common sight for other colleagues, so the staff did not expect the verbal exchanges this morning to escalate into a manslaughter.
For comments, or corrections to this article please contact: [email protected]
You can also find Khaosod English on Twitter and Facebook
http://twitter.com/KhaosodEnglish
http://www.facebook.com/KhaosodEnglis