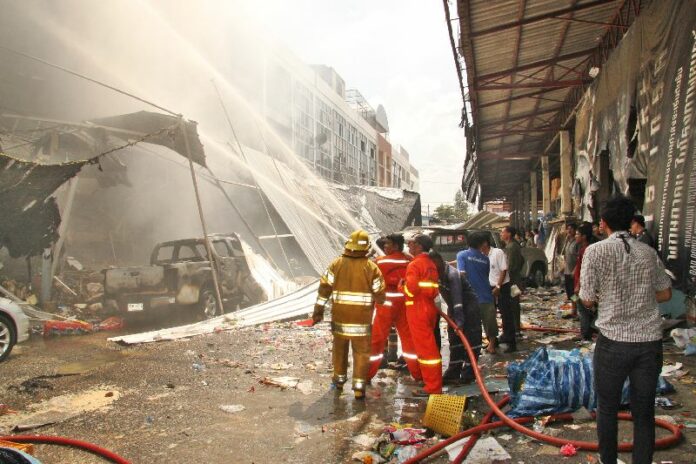 (13 November) A wholesale firecrackers shop in Pathum Thani province has burned down after fireworks stored in the shop caught fire, police said.
Thanyaburi police and firefighters were alerted of the incident at approximately 11.30 yesterday.
Rescue workers said two people were killed by the fire as they failed to escape the building. Other nine people were injured and taken to Pathum Thani Hospital.
One additional person was reported to have gone missing, later identified as Ms. Yupin Puesoontod.
The fire also destroyed six commercial lots and six cars around the shop, while the rescue team spent an hour to extinguish the blaze. The total loss is presumed to worth nearly 50 million baht.
Pol.Col. Niruth Prasittimet, Chief of Thanyaburi Police, said the fireworks stockpiled inside the building could not have been ignited on their own, so the officers suspect that the fire may have started from the kitchen of the store before spreading into its back room storage, where fireworks were kept to be sold during the upcoming Loy Krathong Festival.
However, Pol.Col. Niruth stressed that further investigation concerning the cause of the fire is underway.
Pathum Thani Governor, Mr. Pongsathorn Sajjachonphan, said that legal actions for illegally storing fireworks in community area will be taken against the owners of the building in a strict manner.
Meanwhile, Pathum Thani provincial officials have been instructed to close the area from the public after the fire-wrecked building started to collapse and might harm nearby buildings.
The incident took place just a week before the start of Loy Krathong Festival, during which firecrackers are widely sold and lit on the night of the festival despite high number of firework-related accidents in the past.
Although the authorities have repeatedly vowed legal actions against those who violate the restriction of fireworks sales and purchases, many festival-goers have ignored the threats.
Other than fireworks-related injuries and deaths, deaths by traffic accidents and drowning are associated with Loy Krathong Festival, said Mr. Prommin Kanthiya, director of the Office of Accident Prevention.
According to Mr. Prommin, 78 and 21 people were killed by traffic accidents and drowning throughout the 2012 Loy Kratong Festival, respectively; drowning has been a risk in the festival due to the tradition that requires festival-goers to float the Krathong onto the river.
He warned that uses of fireworks in public places during the festival that cause damages to other people or properties would be punished with a maximum penalty of 7 years in jail and a fine of 14,000 baht.
Mr. Prommin also urged the festival-goers to refrain from launching balloon lanterns – another favourite activity of the festival – near airports as the objects would disrupt air traffic.
2013 Loy Krathong festival is due to take place on 17 November, although many venues have scaled down their entertainment activities to comply with the public mourning of the late Supreme Patriarch.
For comments, or corrections to this article please contact: [email protected]
You can also find Khaosod English on Twitter and Facebook
http://twitter.com/KhaosodEnglish
http://www.facebook.com/KhaosodEnglish