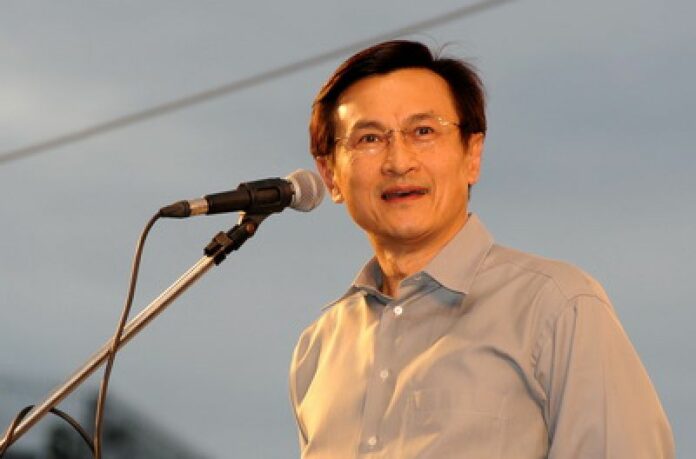 (13 November) Minister of Education Chaturon Chaisang has expressed his disappointment over the opposition MPs who had heckled him with whistle-blowing as he left the hotel where he had lunch.
The incident was made known to the public by Mr. Vittayen Muttamara, the director of Blue Sky Channel, a satellite TV channel allied to the Democrat Party, who published on his Facebook a video showing a group of individuals blowing their whistles at Mr. Chaturon while he walked to his car at a hotel parking lot.
The leaders of the anti-government protests at Ratchadamnoen Avenue have previously urged their supporters to carry whistles with them at all time and to use them in confronting any member of PM Yingluck Shinawatra′s Cabinet members they might encounter.
The video was shared widely by anti-government critics on the social network as a praiseworthy episode of ordinary citizens heckling one of the top politicians in Ms. Yingluck′s government.
However, a quick glance at the video reveals that the individuals who were blowing their whistles were far from anything that resemble ordinary citizens: they were in fact well-known Democrat MPs and former MPs, such as Mr. Puttipong Punnakan, Mr. Sathit Wongnongtoey, Mr. Thaworn Senniam, and Ms. Ratchada Thanadirek.
Speaking to our correspondent about the video, Mr. Chaturon said he was having lunch at Royal Princess Hotel before he encountered the group of Democrats as he left the hotel.
Mr. Chaturon said although he did not feel threatened by the heckling Democrats, he was disappointed that the MPs, many of whom he knew personally, would choose to harass him on his private time.
"I was merely having lunch on my own. I didn?t attend any political appointment at the hotel.," Mr. Chaturon complained, "It′s inappropriate how they blow their whistles in front of the hotel like that, because it might harm the business there. These fellow politicians know me personally. They shouldn?t have acted like that. They behaved as though they never knew me".
He added, "It′s not a spontaneous expression of disappointment [against the government]. It′s all staged with political result in mind. They recorded and broadcast the incident in a manner that unsuspecting viewers would see it as a minister getting heckled by the people".
Nevertheless, Mr. Chaturon said he had no plan to increase his security.
For comments, or corrections to this article please contact: [email protected]
You can also find Khaosod English on Twitter and Facebook
http://twitter.com/KhaosodEnglish
http://www.facebook.com/KhaosodEnglish