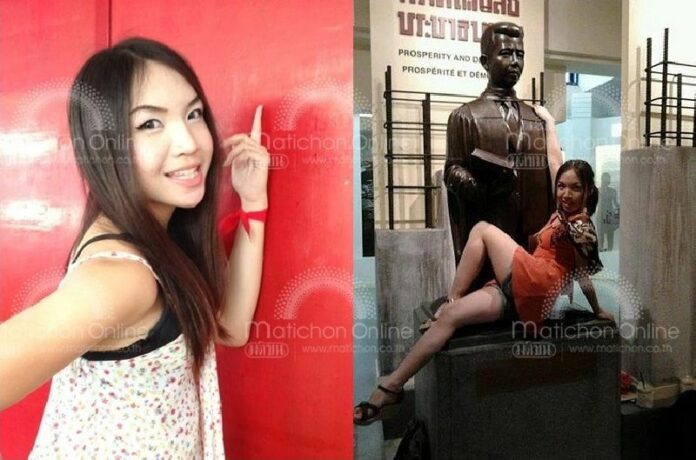 (12 December) Over 3,000 Thammasat University students and alumni have signed the petition calling for the expulsion of an outspoken student activist, Matichon has reported.
Mr. Ong-on Phu-arkard, the Thammasat alumnus who headed the expulsion campaign, explained to Matichon that the transgender activist Aum Neko has disrespected the university in many occasions.
Those offences include dressing inappropriately, using impolite words to the lecturers, and, recently,
attempting
toreplace the Thai national flag over Thammasat University′s administrative building with a black flag, ostensibly to protest the university rector′s biased political perspectives.
Mr. Ong-on said Ms. Aum, whose real name is Mr. Saran Chuichai, has violated other people′s rights with these actions. 3,050 students and alumni have signed the petition, he added.
The petition was accepted by Thammasat Rector Somkid Lertpaithoon, who told Matichon that Ms. Aum had displayed many inappropriate actions, such as climbing onto the statue of Mr. Pridi Banomyong, the co-plotter of the 1932 revolution which toppled the Siamese Absolute Monarchy and the founder of Thammasat University.
These repeated offences have forced the university administration to set up an investigation committee headed by Vice Rector Prinya Thaewanarumitkul to determine the punishment for Ms. Aum, Mr. Somkid said.
He added that the committee has proposed a one-year suspension as the punishment, but Ms. Aum′s family has contacted the university and asked for a one-semester suspension instead. Mr. Somkid said the decision will be announced in 1-2 weeks.
Furthermore, Mr. Somkid said another committee will also be formed to investigate the ?black flag? incident for a separate punishment. As for the petition calling for Ms. Aum′s expulsion, Mr. Somkid said if her offences do not qualify for the expulsion described by university guidelines, she cannot be expelled.
For comments, or corrections to this article please contact: [email protected]
You can also find Khaosod English on Twitter and Facebook
http://twitter.com/KhaosodEnglish
http://www.facebook.com/KhaosodEnglish