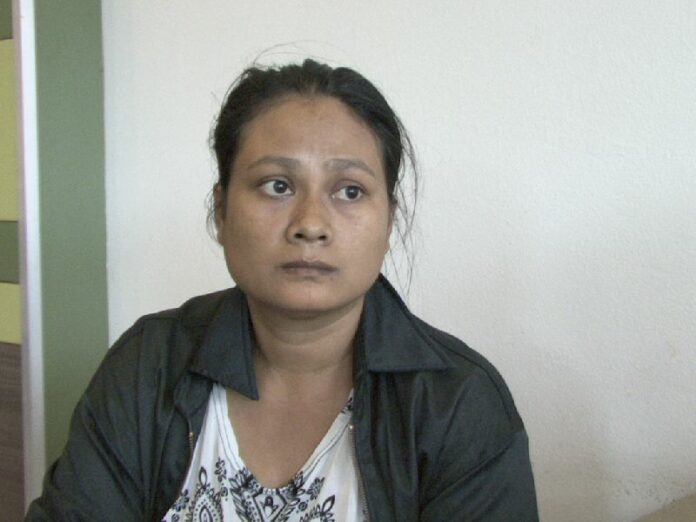 (19 December) A 3 year old girl in Surat Thani province has died from drinking dishwashing detergent when her nanny was playing games on her mobile phone, police said.
The girl, identified by her family as nong Focus, was left at home on 14 December with the 33 year old babysitter, Ms. Chanakarn Chusri-orn, when her parents were away working at a nearby bakery, according to the police.
Ms. Chanakarn, who is a neighbour of Focus? parents, said she had been babysitting for the girl for 6 months. On the day of the incident, Ms. Chanakarn said, she left Focus to play with her daughter, who was reportedly in the same age with Focus, in the bathroom while she went out and play games on her mobile phone outside the house.
However, Ms. Chanakarn said, she had earlier mixed dishwashing chemical with water and left it in the bathroom for use in refrigerator cleaning later.
The babysitter said nong Focus later ran to her, pointed to her own mouth, and spilled out some chemical, which made Ms. Chanakarn realise that the girl had drank the chemical she left in the bathroom. Ms. Chanakarn told police she tried to make Focus vomit out the chemical and drink a lot of water, to no avail.
Ms. Chanakarn said "an hour and a half" after Focus drank the chemical, the girl′s condition worsened, so she picked up the girl to her parents, who sent her to a local clinic. The clinic later transported Focus to Samui Hospital, where she eventually died.
The body of the girl will undergo autopsy inspection at Surat Thani Hospital to establish clear cause of death, police said, adding that they have also confiscated the dishwashing chemical Ms. Chanakarn claimed the girl had swallowed for further investigation.
Ms. Chanakarn has not been charged, police said, as they are still waiting for result of the girl′s autopsy report. However, a senior police officer suggested that Ms. Chanakarn could be charged with gross negligence leading to death.
Speaking to our correspondent, Ms. Chanakarn said she sincerely regrets her actions. As a gesture of her apology, Ms. Chanakarn said, she would become a nun to make merits on behalf of the dead girl after her funeral is concluded.
Focus? parents said they would not comment about legal issues concerning Focus? death, stating that they would let the legal procedure take its course.
But they said they would like to encourage other parents to take lesson from their loss, especially when it comes to choosing babysitters. Parents should consider how competent the babysitters can mind their children before they decide to hire the individuals, they added.
For comments, or corrections to this article please contact: [email protected]
You can also find Khaosod English on Twitter and Facebook
http://twitter.com/KhaosodEnglish
http://www.facebook.com/KhaosodEnglish