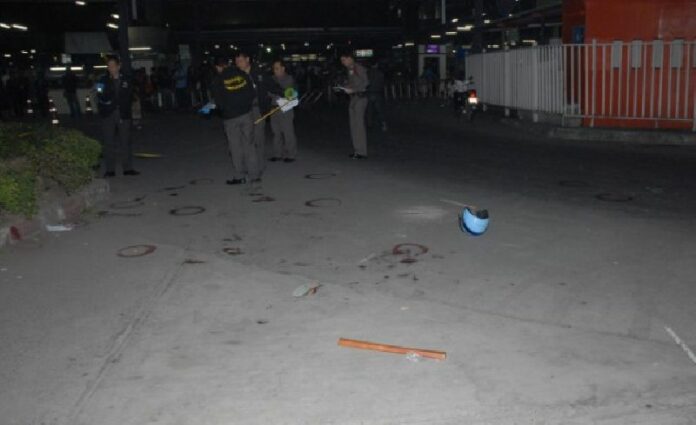 (1 January) Police in Bang Sue district are investigating a deadly clash between two rival gangs near the busy Mo Chit Bus Terminal on New Year Day which killed at least 5 people.
The incident took place at 01.30 at the terminal, which situates in northern Bangkok, when teenage members of a gang in Prachachuen district arrived at an internet cafe inside Mo Chi Terminal to play computer games. However, police said, they soon got in a fight with some taxi-motorcyclists at the terminal who were reportedly annoyed by the youths? noise inside the internet cafe.
The taxi-motorcyclist gang members also reportedly confiscated two motorbikes belonging to the Prachachuen gang youths. The youths then phoned their fellow gang members for reinforcement, police said, and around 15 people from Prachachueng gang showed up with firearms and other weapons.
According to the police, a large group of taxi-motorcyclists were drinking alcohol and celebrating New Year Day when Prachachuen gang arrived at the station and attacked the taxi-motorcyclist gang.
The fight left Mr. Puttisak Klonklaew, 24, and Mr. Attachai Intachote, 21, dead with gunshot wounds at the scene; both are described as members of the motorcyclist gang.
10 injured were later transported to hospitals, where 3 of them later died of their wounds: one 42 year old Prachachuen gang member who suffered from several gunshots and stabs, and two taxi-motorcyclist gang, identified as Mr. Anusorn Modkula, 27; and Mr. Payu Sae-Jew, 25.
Over 30 bullet cases were found at the scene, police said.
Pol.Col.Charoen Srisalak of Bang Sue Police Station said that the investigation team is searching for the suspects involved in clashes, after CCTV recorded the identity of at least one gang member.
Police also seized one motorcycle from the scene, and believed that it could lead to the suspects. Bang Sue Police said they would issue arrest on the suspects when more evidences have been gathered.
Injured gang members are named as Mr. Thanakorn Kaewdee, 32, Mr. Sawad Tanawilai, 32, Mr. Amphon Khemuta, 36, Mr. Wipak Tiamduang, 26, Mr. Channarong Sa-Hed, 22 and Mr. Phinyo Kaewpho, 23.
Although gang fights are common in Thailand, it is rare for such fights to cause as many casualties as the incident at Mo Chi Terminal.
The audacity of the fights last night is also remarkable, since Mo Chi Terminal is frequented by both Thai and foreign tourists who were traveling outside Bangkok during the New Year season.
For comments, or corrections to this article please contact: [email protected]
You can also find Khaosod English on Twitter and Facebook
http://twitter.com/KhaosodEnglish
http://www.facebook.com/KhaosodEnglish