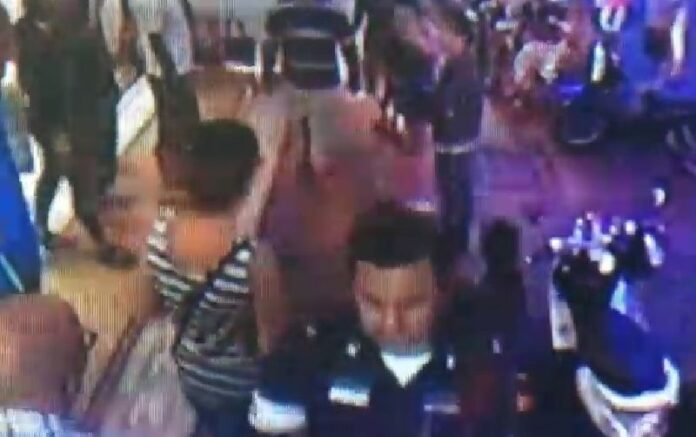 (1 January) A police officer in Pattaya has denied that he had slapped a Russian tourist as depicted in a video which has gone viral on the Internet last week.
The video showed a Caucasian woman arguing with the police officer, barring two Thai men from towing away her motorcycle as ordered by the officer. She then used her mobile phone to record the incident, and the video showed the officer attacking the woman before walking away.
Pol.Col. Suwan Chiawnawinthawat, Chief of Pattaya Police Station, told our correspondent that he has ordered an investigation commission to probe the matter.
He vowed to punish the office in the most severe manner possible if he had been found guilty, as the incident has harmed the image of Pattaya tourism industry.
However, Pol.Sen.Sgt.Maj. Nopkrit Phonwattanathanakit identified himself to Khaosod as the office seen in the video, and denied the allegation.
The 40 year old traffic police officer claimed he stopped the Russian woman and her Russian boyfriend after they allegedly drove their motorcycle in a wrong direction of the road. Pol.Sgt. Nopkrit also said he realised that the man was driving without a driver license.
The officer then reportedly handed a ticket to the man and advised him to pay for the ticket at the police station, and kept their motorcycle key with him as he continued to patrol the area. The Russian woman waited for her boyfriend at the motorcycle, he added.
When Pol.Sgt. Nopkrit returned, he said, he saw the Russian woman attempting to move the vehicle away from where he left her, and he called a vehicle towing company to confiscate the motorcycle, because he feared it might be "lost".
The Russian tourist became upset and tried to take a picture of the police officer, leaving him no choice but to wave his hand to swipe the phone away, Pol.Sgt. Nopkrit insisted.
"I have never touched her," Pol.Sgt. Nopkrit said, "I would never harm women like that, because they are the gender of my mother".
He also called on the media to report the incident with fairness.
For comments, or corrections to this article please contact: [email protected]
You can also find Khaosod English on Twitter and Facebook
http://twitter.com/KhaosodEnglish
http://www.facebook.com/KhaosodEnglish