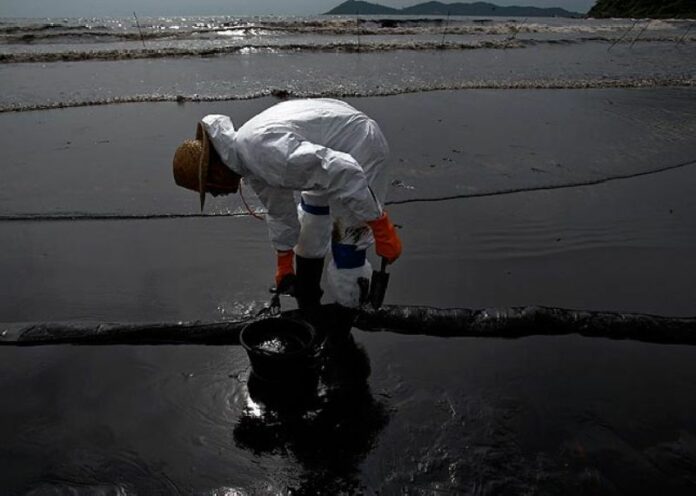 (3 January) The PTT Global Chemical (PTTGC) has identified "pipe fatigue" as the cause of the oil spill in Gulf of Thailand last July.
The oil slick occurred close to the popular island of Koh Samet in Rayong province, and its effect has blackened some of its famous beaches, causing considerable environmental and economic damages to the island.
According to Mr. Bovorn Wongsin-Udom, CEO of the company, laboratory tests and researches conducted by Engineer Institute of Thailand and Chulalongkorn University confirmed that the incident was caused by failure in the pipeline which transported the oil.
Prior to the incident, Mr. Bovorn said, the steel pipe had suffered previous rift on its steel wall, which lays underneath the outer rubber wall. Engineers had repaired the damage but the fatigued strength of the pipe eventually caused the pipe to tear apart again later, said Mr. Bovorn.
"The problem clearly indicates an error in pipe designing process", said the boss of the PTTGC, which is partially owned by the state, adding that PTTGC is not responsible for the said error.
However, even though the fault rests with the pipe designs, PTTGC will not sue the pipe manufacturer, as the insurers of the company have already reimbursed PTTGC for the costs related to the incidents. The insurer is solely responsible for its own lawsuit against the pipe supplier, he added.
Mr. Bovorn insisted that PTTGC is looking forward to preventing any re-occurrence of such disastrous situation. The company has changed the pipe supplier and started an ongoing study into the construction of double-walled pipe, he said.
Additional procedures such as stopping the pipeline operation when sea waves rise over 2.5 metres are also being considered, according to the CEO.
As for the effort to compensate those affected by the oil spill, Mr. Bovorn said the company has consulted with academia and related governmental authorities, while Rayong Provincial Authority has established a tri-party commission to resolve any disputes.
"So far, 15,000 local residents had signed up for compensation from PTT, and two-third had received financial support in total of 500 million baht," Mr. Bovorn said, adding that the rest is upon examination and document reviewing process to make sure that the compensation budget will go to those who are truly in need.
Businessowners and vendors in Koh Samet and surrounding area have previously accused the PTTGC of downplaying or delaying their demands for compensation.
PTTGC has also spent undisclosed amount of fund on advertisement in the media to encourage the tourists to return to Koh Samet, but many tourists have reportedly stayed away from the once-popular island.
For comments, or corrections to this article please contact: [email protected]
You can also find Khaosod English on Twitter and Facebook
http://twitter.com/KhaosodEnglish
http://www.facebook.com/KhaosodEnglish