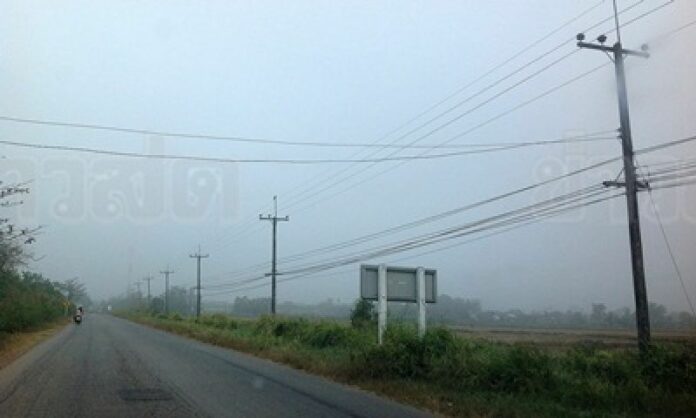 (4 January) Many flights bound for northern Thailand have suffered delays after swaths of thick fog have engulfed much of the northern provinces.
Many flights reportedly had been delayed due to lack of visibility, after thick fog covers Northern provinces' airports.
Flights travelling to Chiang Mai and Chiang Rai yesterday were particularly affected during the hours between 07.00-09.00 due to poor visibility caused by the fog, said Ms. Raweewan Netarakavesana, Director of Suvarnnabhumi Airport.
Responding to the delays, Bangkok′s two international airports are closely monitoring the situation and arranging extra-procedures to facilitate the passengers, Ms. Raweewan added.
Air Asia, also affected by the cooling weather, stated that four of their flights in and out of Chiang Mai airport departed 2 hours late yesterday.
Mr. Jaturongkaphon Sodmanee, Director of Don Mueang International Airport, said the lack of visibility in Chiang Mai and Chiang Rai airports had been the major factor for the delay. However, the problem is not severe, as it only occurred in the morning, he said.
An AirAsia flight from Malaysia had been facing difficulty to land in Chiang Mai airport. Hence it requested an mergency landing and landed at Don Mueang airport safely, said Mr. Jaturongkaphon.
Three Thai Airways' Northern routes have also been delayed, including Chiang Rai-Bangkok, Chiang Mai-Bangkok, and one flight from Bangkok.
Meanwhile, 42 provinces had declared state of disaster after over 7 million people had been severely affected by the cold weather, said Mr. Chatchai Promlert, Department of Disaster Prevention and Mitigation (DPM).
Provincial authorities were instructed to relieve the affected citizens, and to distribute winter equipment such as warm clothes and blankets. So far, the DPM had handed out 203,779 blankets, 83,500 warm clothes and 6,136 warm accessories to people in Thailand's rural areas.
Good news is the temperature will rise 1-2 Celsius degree within these few days, said Mr. Methee Mahayotsanan, Director General of the Central Thai Meteorological Department (CTMD).
However, he warned that thick fog could still be seen in many areas this week, particularly in the hilly Northern provinces, namely Mae Hongson, Chiang Rai, Chiang Mai, Nann and Phrae.
Nevertheless, Mr. Methee believes this will not directly affect flight schedules, but warned that land commuters should be alert of the fog.
The authorities expected that Northern, Northeastern, Eastern and Central Region will be seeing warmer climate within these few days, perhaps as much as 12 Celsius degree warmer. Nevertheless, many provinces will still witness cool and foggy climate in the morning, said Mr. Chatchai
For comments, or corrections to this article please contact: [email protected]
You can also find Khaosod English on Twitter and Facebook
http://twitter.com/KhaosodEnglish
http://www.facebook.com/KhaosodEnglish