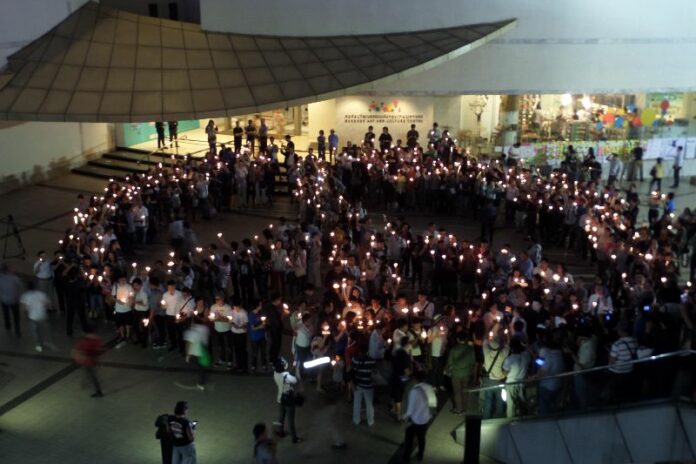 (4 January) Several hundred people have joined a rally in Bangkok's shopping district to voice their opposition to violent protests.
The rally has been organised by a Facebook Page titled "Enough! Stop the protests that provoke violence". The Page has previously called on those shocked and saddened by the violent protests which have been gripping Bangkok to join its rally in front of Bangkok Art and Culture Centre (BACC) at 18.00 yesterday.
The Page billed the rally as a voice of dissent against provocative protest tactics adopted by the People's Committee for Absolute Democracy With the King As Head of State (PCAD), led by Mr. Suthep Thaugsuban. One police officer and one PCAD protester died during a clash in Bangkok last month.
Administrators of the Page also encouraged the public to voice their support for the general election on 2 February 2014, which the PCAD is seeking to derail out of conviction that Thailand is not yet ready for any election.
At the rally, participants wrote messages on Post-Its, expressing their wishes to see peace returned to Bangkok, and placed them around the outer walls of BACC. Some participants also took turn at the microphone to give speeches, attracting much attention from shoppers and tourists in the area.
The attendants later formed a large "Peace" sign, each of them carrying a lit candle. Then they took up the shout "Yes to election! No to Suthep's selection!" for several times, before dispersing from the scene peacefully, while some others formed into groups and discussed political situation.
Mr. Kittichai Ngarmchaipisit, organiser of the rally, said he came up with the idea of the rally after he saw photos of the wife of the policeman killed in the clash last month crying over his body, and later discovered that a protester also died in the same clash.
He explained that the rally yesterday was not exclusive to any particular political group, but a forum for those who disagree with protests that are designed to provoke violence, such as the case of the PCAD.
"No one is the leader here, and I haven't thought about scaling up the protest," said Mr. Kittichai, "I believe the attendants of the rally would develop the idea according to their own creativity".
Facebook Pages run by Mr. Kittichai and other affiliated groups also called on the Bangkokians to oppose the upcoming "shutdown" of the capital city planned by the PCAD.
"The community of Bangkok respects different ideas, but they must not violate the rights of other people, such as the [PCAD]'s demand that dissenting Bangkokians leave the city during the shutdown," reads the statement currently circulated on the social network.
The statement encourages Bangkokians who disagree with the shutdown to turn on the head lights of their vehicles during daytime or wear white shirts.
For comments, or corrections to this article please contact: [email protected]
You can also find Khaosod English on Twitter and Facebook
http://twitter.com/KhaosodEnglish
http://www.facebook.com/KhaosodEnglish