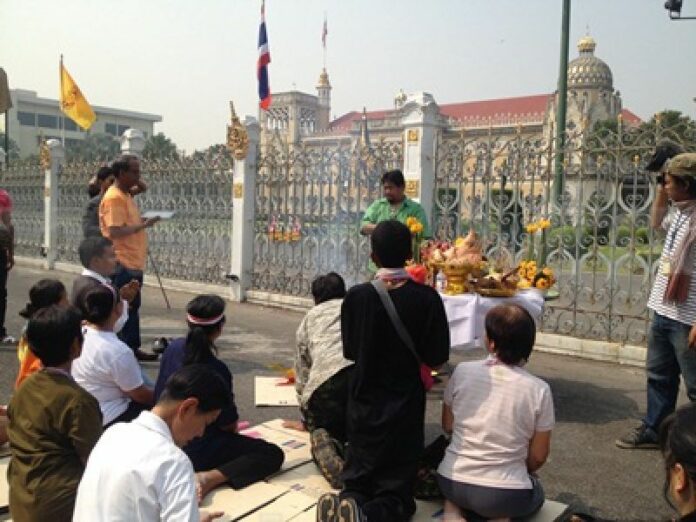 BANGKOK — Anti-government protesters have conducted a ceremony purported to help cleanse evil spirits from the Government House today.
Members of the Student and Peoples Network for Thailand Reform (STR) set up an altar dedicated to angels, local ghosts, spirit of Bangkok city, and Phra Siam Devathirat near Gate 2 of the Government House at 11.00 today. The protesters later conducted a religious ceremony at the site.
Mr. Kittichai Saisa-ard, security chief of the STR, said the ceremony is meant to drive away evil spirits planted there by the blood-pouring protest organised by the Redshirts during their rally in March 2010.
In that protest, the Redshirts poured gallons of blood collected from hundreds of protesters onto the entrance to the Government House and headquarters of the Democrat Party.
Although leaders of the Redshirts said the gesture represented the blood of the people being spilled, the presence of a Brahman necromancer at the blood-pouring suggested that some sort of religious ceremony was also intended.
Mr. Kittichai of the STR said today′s ceremony should perfectly undo the curse laid by the Redshirts almost four years ago.
He also told reporters that he has received reports that the police are planning to crackdown on the protests and assault STR leaders. Mr. Kittichai warned that if the reports are true, more people would only join the protesters' side.
"If the people lose patience, we won't be able to control the situation," Mr. Kittichai said.