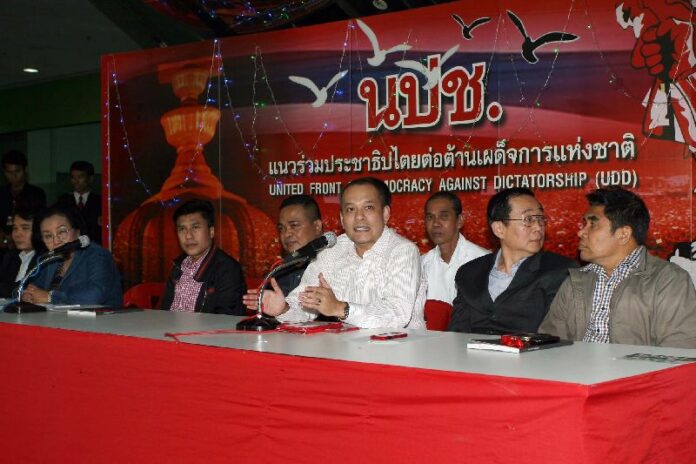 (4 January) Redshirts in Phayao province say they will hold a rally on 13 January to oppose the anti-government protesters? plan to "shutdown" Bangkok on that day.
The People′s Committee for Absolute Democracy With the King As Head of State (PCAD) has vowed to stage mass protests in 20 major intersections of the capital city on 13 January. The "shutdown" is meant to pressure Prime Minister Yingluck Shinawatra into resigning from her caretaker position.
PCAD has also demanded that the general election on 2 February be scrapped in favour of the formation of an unelected "People's Council" to implement series of "reforms" deemed desirable by the PCAD.
But the pro-government United Front of Democracy Against Dictatorship (UDD) has opposed the planned "shutdown" of Bangkok, and it has called on the Redshrits to stage a nationwide counter-protest to voice their opposition to PCAD.
The call has been taken by local chapter of the UDD in Phayao province, with demonstrations and rallies planned in the province on 13 January.
Mr. Siriwat Chupamadtha, coordinator of Phayao UDD, said the protests are meant to express the UDD′s rejection of the PCAD and "Suthep′s Regime", referring to PCAD leader, Mr. Suthep Thaugsuban.
"We are against the shutdown. It is not something they should do, because it would cause severe economic damages to the country," Mr. Siriwat said, "And it would affect the way of lives of the public".
He stressed that the counter-protests in Phayao would be peaceful and the protesters would not march upon Bangkok, in order to avoid any confrontation with the PCAD.
Mr. Siriwat added that no election candidate of any party would be allowed to give speeches on the rally stages in the province.
"This is activity of the people," Mr. Siriwat said, "[Election] candidates should canvass for votes on their own".
For comments, or corrections to this article please contact: [email protected]
You can also find Khaosod English on Twitter and Facebook
http://twitter.com/KhaosodEnglish
http://www.facebook.com/KhaosodEnglish