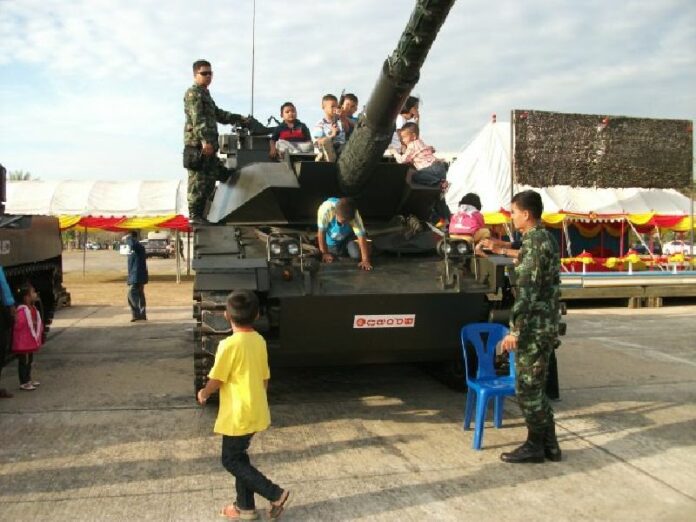 (6 January) The Royal Thai Army has instructed the public not to panic if they happen to see tanks rolling in Bangkok this Friday.
The army is due to move tanks, armoured vehicles, and other heavy equipment on 9 January, said Deputy Spokeswoman of the Royal Thai Army, Maj. Sirichan Ngathong. The weaponry will be exhibited to the public on the occasion of Children′s Day, which falls on 11 January this year, she said.
The Thai Children′s Day is celebrated on second Saturday of the year. One of its highlights is the display of military hardware, in which children are invited to ride on tanks or jet fighters.
According to Maj. Sirichan, venues of the military exhibition in Bangkok would be the 2nd Cavalry Division, King′s Guards, in Sanam Pao district, and the Royal Thai Armed Forces Headquarters in Laksi district.
Helicopters will be transported from Lopburi province to Bangkok during the hours of 11.00-12.00 on 9 January, while land vehicles such as tanks, artillery pieces, Humvees, and armoured vehicles would be transported from Ratchaburi, Lopburi, Prachinburi, and certain army barracks in Bangkok from 19.00-22.00, said Maj. Sirichan
The convoys will travel along Petchakasem Road, Pin Klao-Nakhon Chaisri Road, Vibhavadi-Rang Sit Road, Paholyothin Road, and Chaeng Wattana Road, the army spokeswoman said, adding that the equipment will be similarly transported back to the barracks after the Children′s Day is over.
Maj. Sirichan said the public should not mistake such maneuver as a military coup.
Rumours of a possible coup are once again spreading in Thailand due to ongoing political turmoil, especially after Commander-in-Chief of the Royal Thai Army, Gen. Prayuth Chan-ocha, refused to completely dismiss reports that the army might stage a coup in the future.
"The military does not shut or open the door to a coup, but a decision depends on the situation," Gen. Prayuth is quoted as saying on 28 December last year.
Correction: Due to an error, the original version of this article identified Children′s Day this year as 10 January. It should have read 11 January. The mistake has now been fixed.
For comments, or corrections to this article please contact: [email protected]
You can also find Khaosod English on Twitter and Facebook
http://twitter.com/KhaosodEnglish
http://www.facebook.com/KhaosodEnglish