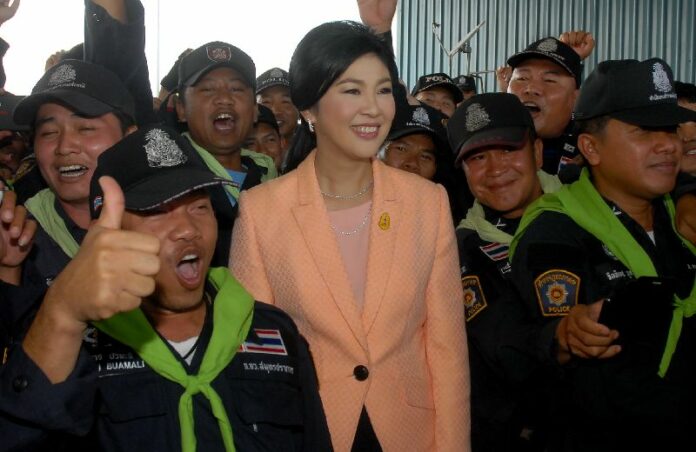 (6 January) Prime Minister Yingluck Shinawatra has presided over the opening ceremony of OTOP store at Suvarnabhumi Airport and visited police officers stationed at the airport.
OTOP, One Tambon One Product, is a key policy implemented in 2001 under the administration of her brother, former PM Thaksin Shinawatra, in which each local Tambon (subdistrict) across the country would develop its own unique products and sell them to the market with support from the state.
Speaking at the ceremony, Ms. Yingluck said the OTOP project has created jobs and strengthened economy on the local level across the country. Over 240,000 families benefited from the project, Ms. Yingluck said, generating sales worth more than 86 billion baht in 2013 alone.
The government has provided OTOP-affiliated communities with capital and helped them find venues to sell their products, as well as rebranding the goods for exports to foreign countries, according to Ms. Yingluck.
"Establishing OTOP shop in Suvarnabhumi will create new channel for selling the products, because many foreign tourists visit the airport. It is an opportunity for OTOP products to display their quality to the world," Ms. Yingluck told reporters.
Officials said the particular OTOP store at the airport would be a "premium" one, selling high-end and tax-free items produced by local Thai communities.
Mr. Niwatthamrong Boonsongpaisan, the Minister of Commerce, said he expects additional OTOP stores will be opened in other airports if the model store at Suvarnabhumi proves successful.
After the opening ceremony, Ms. Yingluck visited hundreds of police officers and soldiers stationed at the airport to maintain public order amid the ongoing protests against the government.
12 police companies and 2 army companies are guarding Suvarnabhumi Airport from the anti-government protesters; there are fears the protesters might storm the airport to escalate their campaign against the government.
Police officers welcomed Ms. Yingluck with loud cheers and applause, with some shouting "Yingluck, fight, fight!". The Prime Minister also took pictures and chatting with many officers.
The soldiers? reception of Ms. Yingluck was much more subdued. Many of them clapped their hands briefly only when police loudspeakers urged them to do so.
Ms. Yingluck later addressed the security forces, wishing them a happy new year and praising them for their performance of duty. She thanked the police and the troops for taking care of Suvarnabhumi Airport, which is visited by many foreign tourists per day.
"It′s a tough duty, and I have to express my thanks," Ms. Yingluck said," You have sacrificed your time, your mental strength, and physical strength, to maintain safety for both Thais and tourists".
She added, "Please be patient. Normalcy will return to Thailand soon".
For comments, or corrections to this article please contact: [email protected]
You can also find Khaosod English on Twitter and Facebook
http://twitter.com/KhaosodEnglish
http://www.facebook.com/KhaosodEnglish