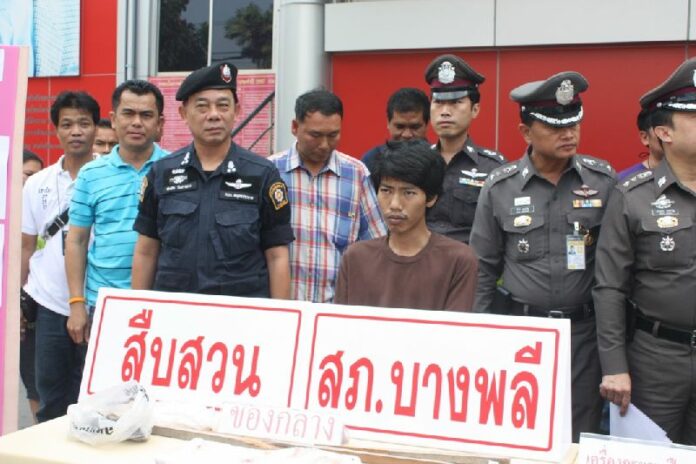 (3 March) Police in Samut Prakarn province have arrested a man who allegedly detained and assaulted his 14 year old girlfriend.
Pol.Maj.Gen. Thatchai Hongthong, a police commander in the province, said the girl′s mother has informed the police about her disappearance a week ago.
The police later received calls from the girl, telling them that she was being detained in a public housing unit in Bang Phlee district. Police officers eventually raided the place and found the victim alone in the room.
According to the police, the victim bore bruises and other injuries on her body, and much of her hair has been violently chopped off. The victim was promptly sent to hospital.
Inside the room, the police found blood-stained clothes and a piece of wood which was presumably used by the assailant to assault the victim.
The 14 year old girl later told the police she was abducted and forced to stay in the room since 24 February by her 21 year old boyfriend, Mr. Apiwat Pukcharoen, who reportedly met her on Facebook 3 months ago.
According to the victim, Mr. Apiwat was angry at her because many guys have talked to her in the past few weeks, and proceeded to beat her repeatedly with the baton and forcefully shear her hair with a pair of scissors.
However, Mr. Apiwat left her alone in the room yesterday, so she decided to use a telephone and call the police for help, the victim said.
Mr. Apiwat later called the victim′s phone and instructed her to meet him in front of Ubonsri gated community. The police surrounded the area and arrested him there.
The suspect admitted he had abducted and tortured the victim as she had told the police. He claimed he committed the act out of jealousy.
The police press numerous charges against Mr. Apiwat, including sexual assaults on a minor, abduction, unlawful detention, and physical assaults.
According to the police records, Mr. Apiwat had been previously arrested on narcotics charge.