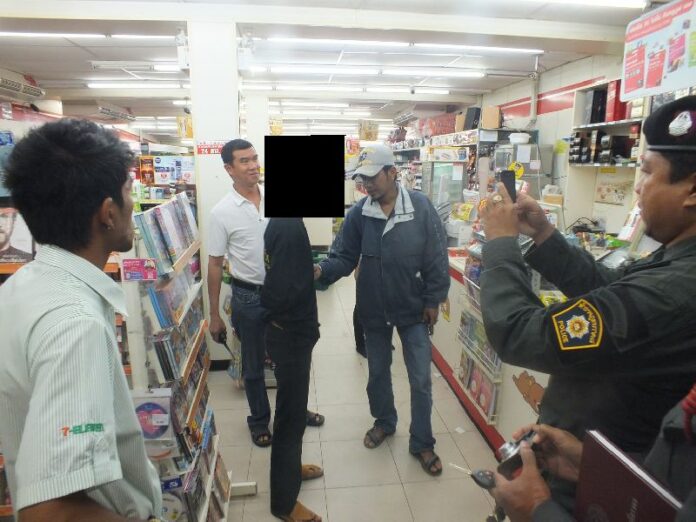 (12 March) A teenage boy who allegedly robbed a convenience store has been apprehended by a policeman who happened to drive past the suspect.
The police received the robbery alert at around 04.40 today from staff at a 7-11 store in Langsuan district of Chumphon province. Police officers later arrived at the store, which locates opposite Suan Sri Wittaya School, to find frightened staff waiting for the police.
According to the staff, a teenage boy wearing black T-shirt and a yellow mask stormed into the store and held up the staff at knife-point, demanding money. The staff then handed the suspect 500 baht in cash before the suspect sped away on a motorcycle.
Shortly after the police radioed other units in the vicinity to locate the suspect, they were contacted by Pol.Col. Phakkaphon Nawitsri, a police commander at Langsuan Police Station, that he has encountered and apprehended the suspect on his way to inspect the crime scene.
According to Pol.Col. Phakkaphon, the suspect was driving past him on the opposing lane when he recognised the man's description, so he proceeded to instruct the suspect to stop his vehicle and surrender himself. Pol.Col. Phakkaphon said the suspect initially ran away, but the officer gave chase and eventually arrested the suspect.
Pol.Col. Phakkaphon added that he was not armed at the time.
CCTV footage and witnesses' testimony confirmed that the suspect was the man who robbed the store, police said.
The police identified him as a 15-years old local resident who is currently enrolled in a "famous school". According to the police, the suspect confessed that he committed the robbery because he needed money to spend at internet and game cafe.