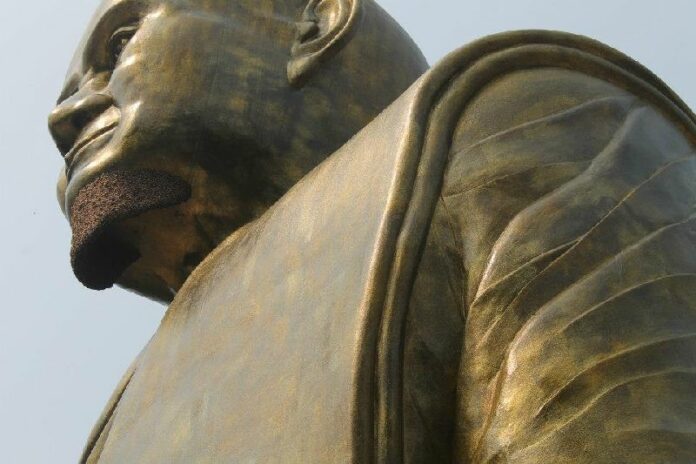 (16 March) The beehives, perched on the chin of the statue of a famous monk in Sakol Nakhon province, have been hailed as a "miracle" by many local residents.
The 19-metre high statue at Wat Prachaniyom temple in Sawangdaengdin district was dedicated to the memory of Luang Phu Mun Bhurithatto, a local monk, well known by many Thai Buddhists for his alleged magical powers.
Many locals have said that appearance of the beehives, which resemble a "beard" for the statue, have only added more signs of divinity of the late monk and groups of worshipers have been seen praying to the statue at the temple.
As the alleged miracle coincided with a lotto-drawing day, some temple-goers also interpreted the miracle into patterns of numbers which will appear on the lottery draws.
Mr. Pramuan Srima, former subdistrict director of Nong Luang, said the statue cost over 9 million baht to build, and its construction was only recently completed in February 2014. He also expressed his belief that the "bee-beard" is a sign of a blessing for the country, and that Luang Phu Mun is known to have enriched his supporters with lucky lotto draws.
According to Mr. Pramuan, one local villager once won a lucky draw by betting on the year the construction of the statue started – 2553 B.E. "The locals are very confident that the appearance of the beehive heralds more fortune for our community," Mr. Pramuan explained.
However, the abbot of Wat Prachaniyom temple said he disapproved such belief, as he views the lottery as a sinful gambling.
"We never give out any lottery numbers," said the 86-year old Luang Phu Boon Mee, "I'd rather see the temple-goers do good things and abandon their obsession over the lottery".