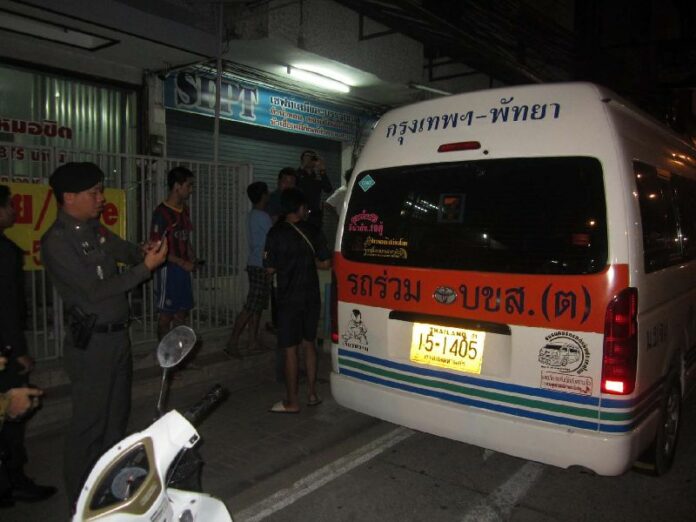 (4 April) Police are searching for a public van driver who reportedly attempted to rape his passenger, but fled after he was beaten up by her boyfriend.
The police received calls for help at around 01.00 this morning and arrived at minivan 'queue' for the DK Van Company on Central Pattaya Road, in Chonburi's Banglamung district, to find a woman, still visibly shaken by the incident, waiting for the officers to arrive.
The 18-year old victim told police she boarded the minivan on Bangkok-Pattaya route from Mo Chit Terminal at around 21.00 last night to see her boyfriend in Pattaya. The minivan was legally registered to Transport Co.Ltd., bearing license plate number of 15-1405 BKK.
When all of the other passengers had left the van, the victim said, the driver coerced her to sit in front seat with him. She described the driver as a Thai male, 20-25 years old.
The driver then allegedly molested the victim and drank beer as he continued to drive the vehicle. Once the van reached Pattaya town center, the victim said, the driver parked at a petrol station and dragged her to the backseat where he attempted to rape her, but the victim reportedly persuaded him to let go, promising to return to him once she had finished her business in Pattaya.
The driver reportedly complied, exchanged phone numbers with the victim, and then dropped the victim off at mini-van queue on Central Pattaya Road. The victim said she immediately phoned her boyfriend and told him what happened, while the driver waited in his vehicle and drank his beer patiently.
Her boyfriend arrived at the scene a short while later, and proceeded to beat the driver out of rage, causing the driver to bleed profusely and flee the scene.
The police found a can of beer in the vehicle, and said they have contacted the van operators to identify the driver.
For comments, or corrections to this article please contact: [email protected]
You can also find Khaosod English on Twitter and Facebook
http://twitter.com/KhaosodEnglish
http://www.facebook.com/KhaosodEnglish