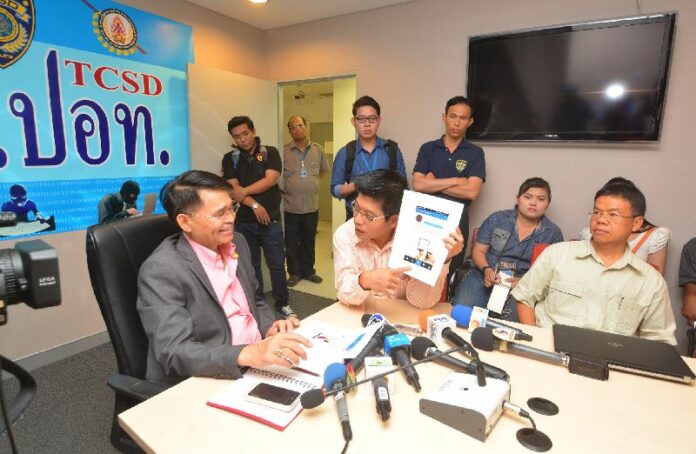 (3 April) Famous anti-government TV show host and executive of The Nation news agency has filed a complaint to the police, urging them to take action against a mysterious individual who accused him of cheating on his wife.
Over the past week, an Instagram user who went by the name "Lie Kanok" posted series of photos and videos purported to show Mr. Kanok Ratwongsakul and his penis, along with an accusation that Mr. Kanok, though a married man, had fooled her into engaging in a sexual relationship with him, only to "ditch" her later.
In one image, a figure identified by the poster as Mr. Kanok could be seen holding his penis to the camera.
The accuser also released a short video clip showing a likeness of Mr. Kanok looking at camera and murmuring "I love you" as he presumably lay on a bed.
The journalist has used his social network profile to deny the authenticity of the images and videos purported to show him and his penis, at one point he joked that his own penis is larger than the one in the images. Mr. Kanok also denied any extra-marital relationship or any sexual manipulation.
However, the mysterious accuser stepped up the attack, threatening to release yet even more sordid video footage of Mr. Kanok if he still refused to apologise for his alleged lies to her.
When Mr. Kanok dismissed the threat, the individual posted an image purportedly showing Mr. Kanok as he performed oral sex on an unidentified woman, and claimed that the image was merely a screenshot of a longer video clip which would show the entire action.
Mr. Kanok spoke out about the incident during a public panel discussion in the National Book Week expo at Queen Sirikit Convention Centre yesterday evening, telling a crowd of reporters that he would file charges under the Computer Crime Act against the accuser for falsely defaming him.
He added that he has been urged by his company to take legal action against the allegations.
Nevertheless, Mr. Kanok admitted that the man seen whispering "I love you" in the video clip could have been him, but claimed to be unable to recall where and how the video was taken. He also explained that he has been "involved" with other women in the past year, but insisted that his wife had permitted him to do so occasionally, and that these involvements had always been on short term.
Mr. Kanok also questioned whether his dedication in anti-government causes has been the reason behind the smear attack against him.
Today Mr. Kanok met with the technology crime police at Government Complex on Chaeng Wattana Road, where anti-government protesters remain encamped, to press charges. He stressed to reporters that he believed the incident has been an attempt to "discredit" him thanks to his political activities.
However, Mr. Kanok said he would suspend his duties as a journalist for one month in order to avoid any effect on the credibility or image of his profession, and insisted that decision was meant to show responsibility, and should not be interpreted as an acknowledgement of the allegation against him.
"I want to tell the person who keeps defaming me that such action must be stopped," Mr. Kanok told reporters, "If anyone can produce proof that I have used my media profession to fool or molest any woman, I will quit my media career for life,"
The Nation has already set up a committee to investigate the matter, he added.
The police said they would carefully investigate the authenticity of the images and video clips via scientific procedures.
For comments, or corrections to this article please contact: [email protected]
You can also find Khaosod English on Twitter and Facebook
http://twitter.com/KhaosodEnglish
http://www.facebook.com/KhaosodEnglish