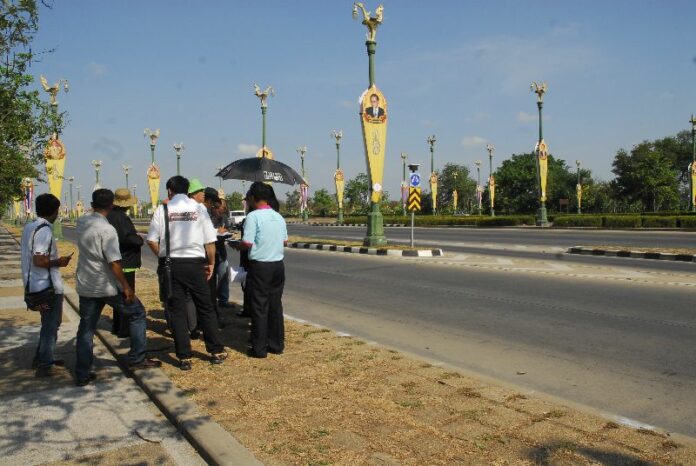 (3 April) Redshirts leaders hope that at least 200,000 of their supporters will join the mass rally on 5 April at a picturesque boulevard in Nakhon Pathom province.
The United Front of Democracy Against Dictatorship (UDD) is organising the rally at Aksa Avenue as a massive "show of strength" for the embattled government of Prime Minister Yingluck Shinawatra. Anti-government protesters have been calling for her resignation, and urging the military and the courts to depose her.
Mr. Suthep Thaugsuban, former Democrat MP and leader of the anti-government movements, vowed to "finish the fight" before Songkran (a traditional New Year holiday) festival in mid-April.
But Mr. Anuwat Thinnarart, regional UDD leader in northeastern Thailand, said he is not concerned by Mr. Suthep's threat, as Mr. Suthep has made many other unfulfilled threats and deadlines in the past.
"We have a goal on this Saturday to mobilise the Redshirts all over the nation in greater numbers than the PCAD supporters," Mr. Anuwat said, referring to the People's Committee for Absolute Democracy With the King As Head of State (PCAD), "We want to show our force, so they will see that the majority of the nation does not agree with PCAD's goals"
Mr. Anuwat also warned that numerous Redshirts across the country will not tolerate any move by the so-called "independent agencies" to dismiss Ms. Yingluck from her caretaker position.
According to Mr. Anuwat, local Redshirts in the Isaan region will travel to Aksa Avenue via personal cars and charted buses. They will also bring along security guards and medical workers in order to assist the protesters under the hot April weather, he added.
For comments, or corrections to this article please contact: [email protected]
You can also find Khaosod English on Twitter and Facebook
http://twitter.com/KhaosodEnglish
http://www.facebook.com/KhaosodEnglish