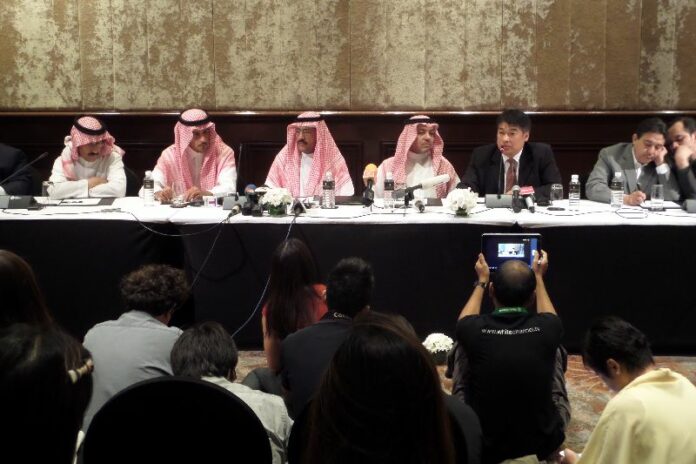 (2 April) The former judge who had been removed from controversial case of missing Saudi businessman has denounced the court's allegation that he had inappropriately performed his duty.
Mr. Somsak Ponsong was abruptly suspended from his duty in January as he was penning the ruling on the abduction and murder case of Mohammad Al-Ruwaili, who went missing in Bangkok 24 years ago.
Another judge replaced Mr. Somsak and delivered the verdict on 31 March, proclaiming 5 police officers not guilty of kidnapping, torturing, and murdering Mr. Al-Ruwaili as charged by the prosecutors. Saudi officials and Mr. Al-Ruwaili's relatives have expressed their outrage at the sudden judge change which, they said, led them to believe they had not received a fair verdict by the Thai court.
Court official explained that Mr. Somsak was removed after he was found guilty of committing a breach in ethics during his service as a judge in Saraburi province, that his removal was completely unrelated to the Al-Ruwaili case.
But Mr. Somsak insisted his innocence, telling reporters today that he is greatly surprised by the court committee's decision to suspend his duty. According to Mr. Somsak, the investigation was launched 5 years ago and meant to determine whether he had inappropriately approved bail release to defendants.
However, Mr. Somsak said, the suspects in 17 out of 20 bail releases he had approved did not attempt to flee; one did flee but was later brought back to the court by the authorities; while another case was ended when the defendant was shot dead during his bail release.
He insisted that he had not exercised poor judgment in the approval of these bail releases. "Some defendants were bailed in the cases of possessing more than 100 amphetamines, but I have studied the Supreme Court cases, and I discovered that a defendant with as much as 36,000 amphetamines was also granted bail," Mr. Somsak said.
The judge added that the neither the prosecutors, nor the defendants, nor the bail officials ever filed complaint about his bail decision.
"Please note that all the things I've been accused of happened 5 years ago," Mr. Somsak told reporters, "There is no evidence of my ethical breach, but a committee has just been set up recently. It makes me wonder whether it was meant to coincide with the period of verdict writing [in Al-Ruwaili case]"
He vowed to fight the allegation put forth by the Criminal Court committee, stating that he would present the evidence proving his innocence on 2 April.
"I have to admit, I feel really sad to have my duty suspended, even though I have performed my duty in the best way I can," Mr. Somsak said.
Mr. Thongchai Senamontri, Director of the Criminal Court, has previously admitted that the defendants in Al-Ruwaili case have filed their request to have Mr. Somsak removed from the case, claiming that they had received unfair treatment from Mr. Somsak, though the request was eventually rejected.
The alleged unfair treatment was Mr. Somsak's insistence that a former police officer who is currently residing in United Arab Emirates could testify against the defendants.
Meanwhile, Mr. Nantasak Poonsuk, Director of the Department of Special Litigation, said had been informed by family of Mr. Al-Ruwaili that they intended to appeal the court verdict.
He said it is too early to indicate which points in the verdict the prosecutors would contest in the Appeals Court.
Minister of Foreign Affairs Surapong Tovichakchaikul said he would like to expressed his sadness that the ruling did not correspond to Al-Ruwaili family's wishes, and he regretted that any chance to amend the frozen relationship between Saudi Arabia and Thailand had been missed.
"I hope the diplomatic relationship between the two nations won't be downgraded any further," Mr. Surapong said.
He added, "I understand our legal system, but we cannot prevent them from having their own opinion or hope in the court verdict. Mr. Al-Ruwaili's family has been following this case for 24 years, so they are feeling uncomfortable, but w will have to explain to the international community so they understand our legal procedure, in order to avoid any misunderstanding".
"If they don't believe us, it's their rights," the Minister concluded.
For comments, or corrections to this article please contact: [email protected]
You can also find Khaosod English on Twitter and Facebook
http://twitter.com/KhaosodEnglish
http://www.facebook.com/KhaosodEnglish