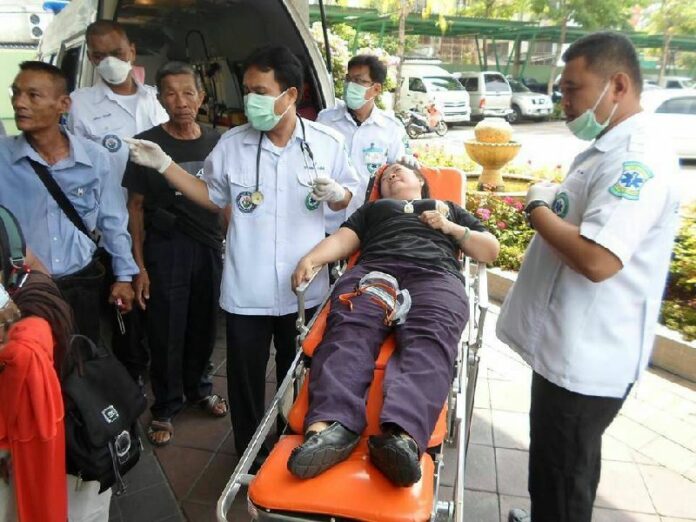 BANGKOK — At least 10 people have been injured by tear gas canisters that exploded during a lecture held in Bangkok today on the danger of tear gas canisters.
The lecture was held at the administrative office of Bang Plad district to educate public employees of the Bangkok Metropolitan Administration (BMA) about the hazards of tear gas and other weapons.
Gp.Cpt. Somphop Pitasen, director of the Royal Thai Air Force's Oridnance Corps, was presenting the lecture when an unspecified number of tear gas canisters exploded in the room, injuring 10 people. More than 200 employees also fled the building in panic.
The wounded individuals have been sent to Vachira Hospital, some of whom were treated for being allergic to tear gas.
According to Gp.Cpt. Somphop, the lecture was held to inform BMA employees of what to do if they encounter suspected explosive devices during their work, due to discoveries of explosives related to the ongoing political crisis in recent months.
The Air Force officer said he was passing samples of tear canisters to the participants when one of them pulled the pin of a canister for unknown reason, setting the device off. Fumes of tear gas quickly enveloped the room, causing much panic in the office building.
Gp.Cpt. Somphop added that the devices were designed "for demonstration purposes only," and were not the actual tear gas canisters used by the police force.
Mr. Thanakorn Chaiyasi, deputy director of Bang Phlad district administration, denied that any accident or mistake occurred during the training session.
He claimed the explosion and the evacuation were in fact a part of a planned "drill" performed for the employees.
Mr. Thanakorn admitted that some staff have been injured, but he downplayed the severity of the situation, insisting that the injuries were minor and that first aid was quickly administered after the explosion.
Pol.Lt. Pichet Gudfuk, a police officer at Bang Phlad Police Station, said his force was informed by the Bang Phlad district administration that no accident took place.
For comments, or corrections to this article please contact: [email protected]
You can also find Khaosod English on Twitter and Facebook
http://twitter.com/KhaosodEnglish
http://www.facebook.com/KhaosodEnglish