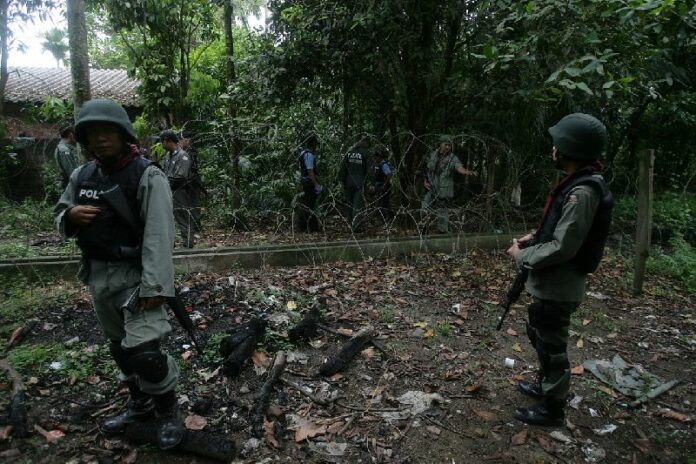 NARATHIWAT — Thai authorities have promised to conduct an impartial investigation into the death of a 14-year-old Muslim boy who was shot by army volunteers in a restive southern border province last week.
The boy was slain near an outpost manned by a group of Army Rangers in Narathiwat province on the night of 22 August. The military claimed that a group of insurgents on motorcycles opened fire into the base first, forcing the Rangers to shoot back. The boy was later dead found dead with a gun in his hand, according to a military statement. The seven other boys who accompanied him, ages 12 – 14, were not injured.
Relatives and friends of the deceased have disputed the official explanation and insisted that the boy was merely riding a motorcycle with his friends, none of whom were associated with the insurgents who have been waging a separatist campaign in the region for a decade.
At a police press conference yesterday, high-ranking officials assured the boy's relatives and community leaders that an inquiry has been launched into the incident.
Pol.Maj.Gen. Pattanawut Angkanawin, a police commander in Narathiwat province, said the case has already seen "80 percent" progress, but that police are still trying to establish whether the Rangers' claim of engaging in live fire with the teenagers is substantial.
"Things will be in accordance with evidence and who is implicated in the wrongdoing, be it military officers, police officers, or any other side. They will be strictly brought to legal prosecution in a straightforward manner," Pol.Maj.Gen. Pattanawut said. "The investigation team asks for seven more days before we can send the case to the court, and we will hold another press conference."
"If the officials are indeed guilty of wrongdoing, they will be punished," Maj.Gen. Singhasak Uthaimongkol, a military commander based in Narathiwat, assured the audience. "Laws must be equally applied to everyone. Don't be afraid that I will protect my subordinates. If they are guilty, they will be prosecuted according to the evidence."
The boy's relatives said after the press conference that they were satisfied by the officials' words, but stressed that they will ask for a more detailed explanation once the period of seven days has passed.
More than 6,000 people have died in the separatist violence that has plagued the provinces of Narathiwat, Yala, and Pattani since 2004. Several groups of Islamic insurgents are thought to be behind many of the incidents targeted at Buddhist civilians and security officers, though there have also been cases of revenge attacks on Muslims by Buddhist vigilantes.
Human rights activists have criticised the military's occasional heavy-handed approach to stamping out the violence in the southern border provinces, as well as their reliance on Rangers, many of whom are volunteers armed by the authorities.
In March, two Rangers confessed they shot three boys dead and wounded their parents to seek revenge for one of their family members in Narathiwat province.