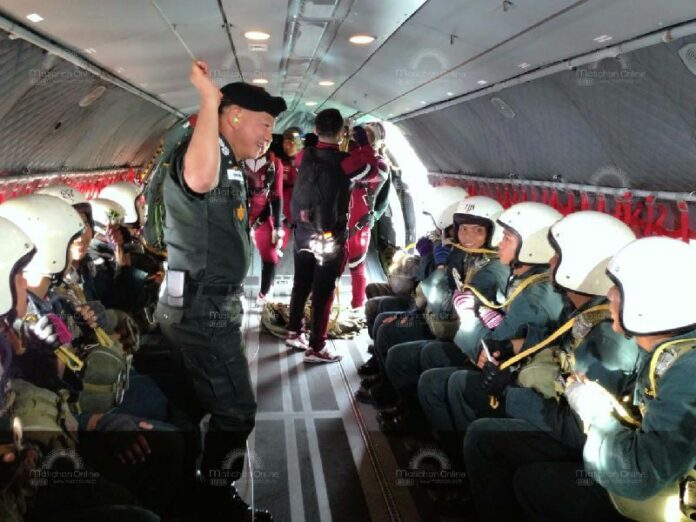 BANGKOK — Police have charged 11 people for manslaughter over the death of two police cadets whose parachutes failed to open because of faulty cable during a training exercise.
Chayakorn Puttichaiyong, 19, and Nattawut Tirasuwansuk, 21, were among those who jumped out of the plane over Cha Am district, Petchburi province, for a parachute training session on 31 March.
The plane cable failed to open the parachutes carried by the cadets, forcing them to resort to the emergency parachute set. However, Mr. Chayakorn and Mr. Nattawut could not open their spare parachute in time and plunged to their deaths.
Today police concluded that the cable used in the training session was a low-quality sling that had been substituted for the standard equipment.
The police's equipment supplier, Thai Aviation Industries Ltd, chose to use 9,300-baht parachute slings made by Thai manufacturers instead of the standard, foreign-made 99,000-baht parachute cables, said Pol.Maj.Gen. Charampon Suramanee, assistant to the chief of Thai police.
The Thai-made slings were not originally designed to fit in the planes used by the Thai police, and the engineers of Thai Aviation Industries Ltd resorted to modifying the equipment on their own, Pol.Maj.Gen. Charampon said.
According to the investigation, several police officers from the Thai Police Aviation Division were aware of the modification, yet turned a blind eye.
The cables were installed on the training plane on 6 March, less than a month before the fatal parachute training session, according to Pol.Maj.Gen. Charampon.
"The Royal Thai Police take this case very seriously," Pol.Maj.Gen. Charampon said. "We have investigated the matter and explained the case to the families of the two victims. After the incident, we took precaution to ensure that this would not happen again."
Eleven individuals related to the faulty cables have been charged with reckless action leading to death of others.
The 11 suspects have been separated into three groups: the seven directors and staff of the Thai Aviation Industries Ltd responsible for purchasing the slings, an employee of Thai Airways Ltd involved in the installation of the cables, and three negligent officers from the Thai Police Aviation Division.
Pol.Maj.Gen. Charampon said it is possible for the families of the victims to file separate civil lawsuits against the 11 individuals and demand financial compensation.
Following the death of the two cadets, the training plane has been re-fitted with high-quality parachute sling, Pol.Maj.Gen. Charampon said.
For comments, or corrections to this article please contact: [email protected]
You can also find Khaosod English on Twitter and Facebook
http://twitter.com/KhaosodEnglish
http://www.facebook.com/KhaosodEnglish