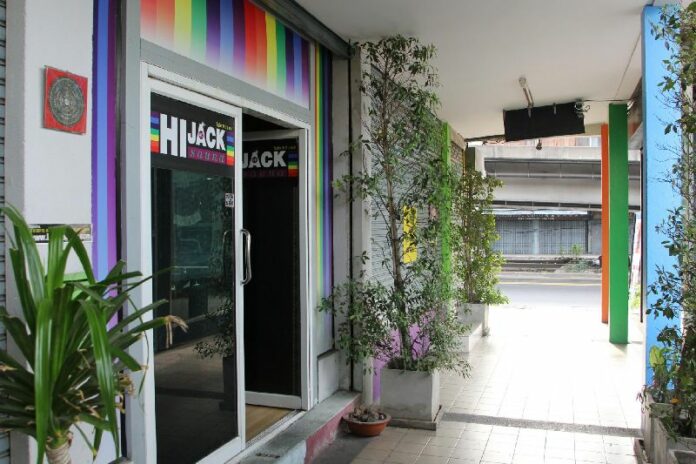 BANGKOK – Thai police say they will crackdown on gay bars and nightclubs that feature obscene shows or allow other "immoral acts" inside their premises.
The police announcement came after a weekend raid on an unlicensed gay bar in northern Bangkok where drugs were abundantly available and there were special rooms for party-goers to have sex in.
Pol.Lt.Gen. Prawut Thawornsiri, spokesperson of the Royal Thai Police, said yesterday that local police forces must strictly enforce the laws on existing gay bars to make certain that no venues allow drugs or "immoral acts." Gay nightclubs, like all entertainment venues, must also close down at 2 am as require by law, the spokesperson added.
"I'd like to stress to party-goers and gay bar owners that gay bars are not illegal, but they must follow the law," Pol.Lt.Gen. Prawut said.
Nightclubs and "saunas" that specifically cater to gay men can be found in most Thai cities, partly due to Thai society's relative openness towards LGBTs as compared to many other Asian nations.
Pol.Col. Suwat Kaewduangto, deputy commander of Chiang Mai police force, said there are two major gay entertainment venues in the province, but inspections at both sites uncovered no illegal activity.
Meanwhile, police in Pattaya, the resort town infamous for its red light district and free-wheeling sex show businesses, claim there are no sex shows, gay or heterosexual, in the area.
"There are no venues, bars, or nightclubs that do that kind of [obscene] activities in Pattaya," said Pol.Col. Suphatee Boonkrong, deputy commander of police force in Chonburi province, where Pattaya is located. "We have stressed to all nightclub owners not to do any obscene shows or illegal activities. We constantly conduct inspections and gather information about these places. If we find any violators, they will be harshly punished."
He added, "I don't think anyone would dare violate the laws in Pattaya, because that would amount to a business suicide."
Pol.Maj.Gen. Urompon Khundetsamrit, a senior police officer in Phuket island, another popular tourist destination, also said local police regularly inspect nightclubs to look for illegal activities.
"We give importance to this matter, because it may affect the image of tourism of Phuket and Thailand," Pol.Maj.Gen. Udompon explained.
However, Nittaya Puengpapong, a HIV/AIDS researcher at Thailand's Red Cross Society, argued that it would be more beneficial to educate the gay community about using protection when they have sex than to crackdown on illegal venues.
"There are many 'saunas' for men who love men. They have been operating for a long time, in Thailand and abroad," Nittaya said. "I don't believe banning all these places is possible. It is vital for these men to protect themselves with condoms."
The Red Cross researcher said Thai authorities should pay more attention to the fact that gay men, among all other groups of population, are at the highest risk of being infected with HIV.
According to a recent Reuters report, the infection rates among Thailand's gay population are comparable to those in Africa's AIDS hot spots.