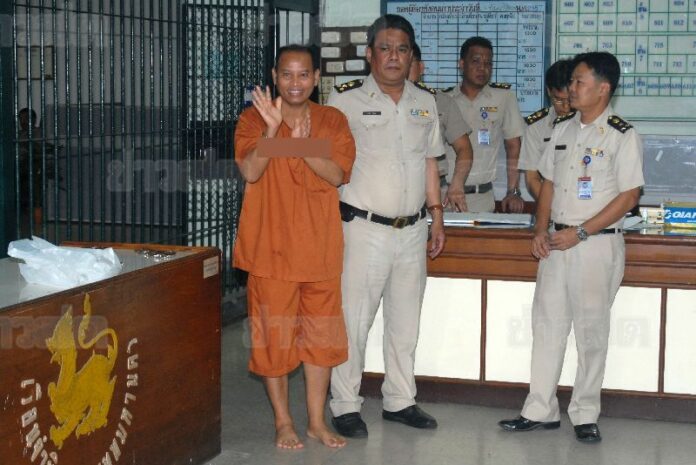 BANGKOK — A former Pheu Thai MP was sentenced to 30 months in prison today after a criminal court found him guilty of offending Thailand's royal family.
Prasit Chaisrisa was charged with lese majeste for a speech he made during a Redshirt rally on 7 May called "Stop Overthrowing Democracy."
Defaming the royal family, a crime known as lese majeste, is punishable by up to 15 years in prison under Section 112 of Thailand's Criminal Code.
Prasit, a former MP for Surin province, initially denied the charges but later confessed through a written statement submitted to the court.
He was originally sentenced to five years in prison but his jail term was reduced to two years and six months after he plead guilty.
As is common with lese majeste suspects, Prasit has been held in prison and denied bail since he was arrested on 29 May.
Gen. Prayuth Chan-ocha, a self-proclaimed royalist who led the coup on 22 May and is now Prime Minister, has made persecuting perceived "anti-monarchists" and lese majeste offenders a top priority of his administration.
"We will use legal measures, social-psychological measures, and telecommunications and information technology to deal with those who are not mindful of their words, are arrogant at heart, or harbour ill intentions to undermine the important Institution of the nation," Gen. Prayuth said in a speech to parliament on 12 September.
Several rights organisations, including Amnesty International and the UN, have expressed concern in the spike of lese majeste charges since the coup.
"The threat of the use of the lese majeste laws adds to the chilling effects on freedom of expression observed in Thailand after the coup, and risks curbing critical debate on issues of public interest," said a spokesperson for the UN Office of the High Commission for Human Rights on 19 August.
Read more:
UN Raises Alarm Over Post-Coup Lese Majeste Cases
Prayuth Vows Tougher Crackdown On Anti-Monarchists