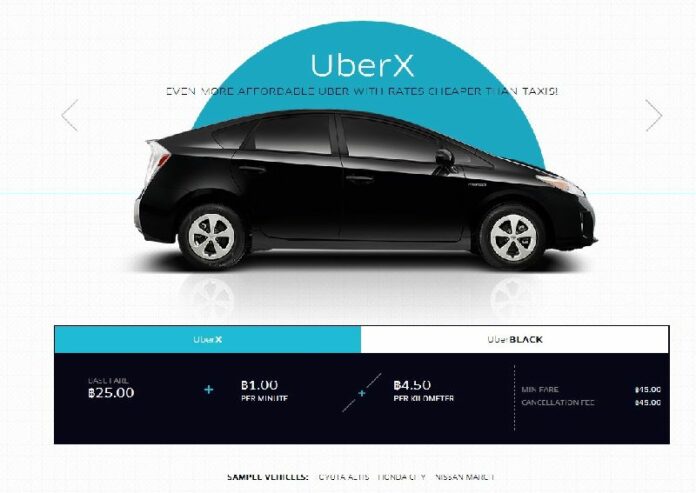 BANGKOK — Thailand's Land Transport Department has requested a meeting with Uber executives following last week's decision to outlaw the mobile application-based taxi service in Thailand.
The department declared Uber's services a violation of public vehicle laws on 28 November, citing the drivers' lack of proper taxi licensing and vehicle registration.
The department has now invited Uber operators to discuss regulations the company must adhere to on 9 December, state media reported.
The US-based company, which first launched its car service in Thailand in April 2014, allowed mobile phone users to book cars driven by Uber employees and pay for their rides with a credit card.
Although many customers were initially deterred by the service's relatively steep prices, the company launched a low-cost service in Bangkok in October that offered cheaper rates than the upcoming fare increase for conventional taxis.
Uber has come under fire for disrupting conventional taxi businesses in capital cities around the world. Neighboring Vietnam outlawed the taxi service on Monday, although it is reportedly considering retracting the ruling and regulating the service's operations instead.
Last week, the director of the Department of Land Transport director warned that Uber drivers could be fined at least 4,000 baht if they continue to operate in Thailand.
"The Department of Land Transport would like to ask the public to only use legally-registered taxis, and do not be misled by the purported advantage [of Uber]," Teerapong Rordprasert said.
GrabTaxi and Easy Taxi, two similar companies that allow customers to book cars through a mobile app, were also invited to meet with the Land Transport Department on 9 December. Unlike Uber, the services use convential taxi drivers and registered cabs.
For comments, or corrections to this article please contact: [email protected]
You can also find Khaosod English on Twitter and Facebook
http://twitter.com/KhaosodEnglish
http://www.facebook.com/KhaosodEnglish