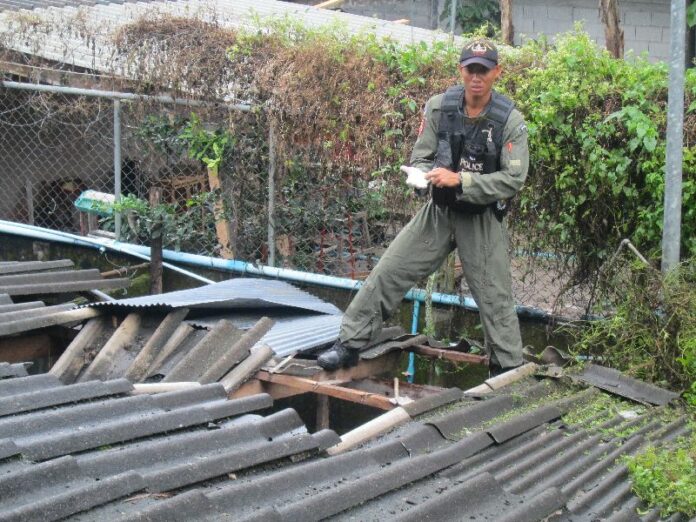 NARATHIWAT— Security officers say they have arrested two separatist insurgents responsible for launching numerous attacks in Thailand's southern border provinces.
The two men, identified as Baruwan Baka and Aimaan Kache (names transcribed from Thai text), were detained by soldiers at a rubber orchard in Ra-ngae district following hours of gunfight, said Col. Rungroj Anantatho, the military commander in charge of the raid.
Soldiers and police surrounded a house near the rubber farm where Baruwan, Aimaan, and two other insurgents were staying at around 10.30 pm last night and ordered the four men to surrender. The suspects refused to comply and fired their weapons, forcing officers to shoot back, Col. Rungroj said.
According to Col Rungroj, the four suspects eventually ran off into the orchard. Two were found hiding by soldiers who searched the area this morning, while the other two managed to escape.
One of the two arrested men, Baruwan, is wanted for his alleged involvement in numerous attacks in Thailand's southern border provinces, including the high-profile torture and killing of a 28-year-old public school teacher, Juling Pongkanmun, in 2006, police say.
Col. Rungroj also told reporters that one of the suspects who escaped, Amran Ming (name transcribed from Thai text), is a "high-ranking operative" of a separatist cell in the province.
"There are more than 10 arrest warrants on him," Col. Rungroj said.
At least 6,200 people have died since secessionist violence broke out in the provinces of Pattani, Yala, and Narathiwat in 2004. The near-daily violence also occasionally spills into some districts of Songkhla province.
In contrast to the rest of country, where the vast majority of Thais are Buddhist, the Deep South is dominated by Muslims who speak a Malaysian dialect and often do not consider themselves Thai.
More than 60,000 troops and armed volunteers are deployed in the region to combat the blood insurgency, which has been waged by several shadowy militant groups seeking to revive the independent sultanate of Pattani that was incorporated into modern Thailand in the early 20th century.
This morning, a grenade and three homemade bombs were also lobbed at residence quarters of police officers in Narathiwat's Ba Jo district. The blast damaged two houses that belong to police officers, but no one was injured in the attack, police say.