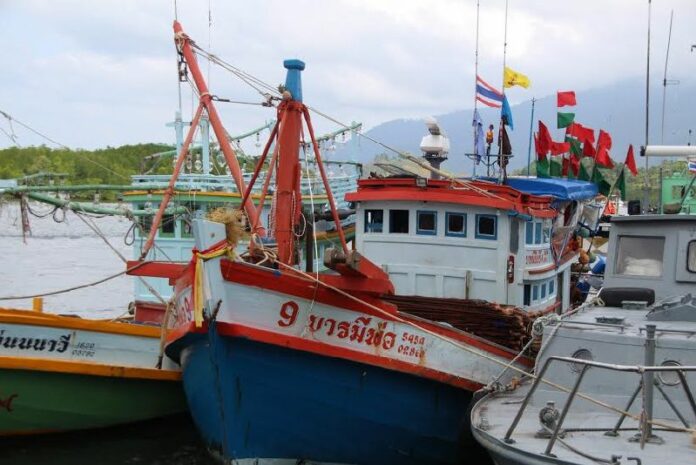 PHANG NGA — The six police officers who allegedly shot at a fishing boat in the Andaman Sea last week finally turned themselves in today after a local police commander demanded they comply with the summons.
The six men are wanted for shooting at a fishing boat called "Gao Baramee Por" off the coast of western Thailand on 7 January 2015. According to the boat's crew, the six police officers fired more than 30 shots at their ship without warning, and only stopped when a nearby Royal Thai Navy ship came to the fishermen's rescue.

Thongbai Thamthong pointing at bullet holes on his ship in Rangong province, 11 Jan 2015.
Upon being detained by Navy sailors, the six men identified themselves as police officers from Ranong Police Station, and claimed they thought the fishermen were smuggling Rohingya refugees. The boat owner later filed charges against the six officers with police in Phang Ngao province.
However, the six officers did not surrender themselves to Phang Nga police until today, when Pol.Lt.Gen. Decha Butrnampetch, commander of the 8th Region Police, realized that they had not yet reported and ordered them to do so at Kuraburi Police Station at 11.00 am.
Prior to their arrival, several police officers also tried to bar reporters from taking photos of the suspects. The order was later overruled by a police supervisor.
The six suspects eventually arrived at Kuraburi Police Station to hear their charges and provide testimony to investigative officers. They were later released.
Yutthachai Chanchai, owner of the "Gao Baramee Por," said he was greatly disturbed to see some police officers trying to protect their colleagues in this incident.
"This damages the image of the police force," Yutthachai said today. "I believe that Kuraburi Police will give fairness to all sides in this matter, so I don't see why the suspects have to avoid the media. If they are truly innocent, they should openly accept the charge and fight the allegation in accordance with legal procedures."
A police officer told Khaosod that the 8th Region Police will punish the six officers for their alleged action "within next week."