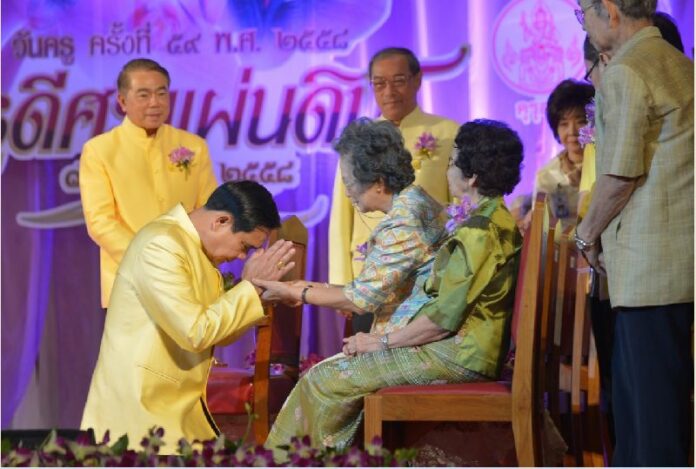 BANGKOK — Thailand's unelected military ruler has asked the public to think of what is best for the nation when they vote, instead of relying on their "familiarity" with the candidates running in an election.
"One needs to know many things in order to run a country. I haven't studied about it, but I had to learn about it," said Prime Minister and junta chairman Gen. Prayuth Chan-ocha, a career soldier who seized power from Thailand's elected government on 22 May 2014. "Therefore, whoever will run the country next has to know more than I do. Don't just elect the same group of politicians you have elected in the past."
He continued, "Don't elect the relatives of the previous group. Don't just elect the people you know. Today we have to make politicians display their vision on how they will run the country."
Gen. Prayuth, who was speaking to teachers at the Ministry of Education on the occasion of National Teacher's Day, did not mention any politicians by name, but appeared to referencing the political dynasty of former Prime Minister Thaksin Shinawatra.
Although Thaksin was removed in a coup in 2006 and has lived in self-imposed exile since 2008, political parties backed by the former PM have won every national election since his ouster.
Thaksin's sister, Yingluck Shinawatra, led the government toppled by Gen. Prayuth in the 22 May 2014 coup.
Gen. Prayuth has promised to hold a new election in 2016, if "national reforms" and "reconciliation" have been achieved. In today's speech, the junta leader asked all Thais to cooperate with the military regime to help accomplish those goals.
"The government cannot do everything alone," Gen. Prayuth said. "Otherwise, there may be opposing thoughts that cause conflicts. It takes time, because some issues need a new foundation, which may not be as fast as some of you have hoped. The government cannot think like rich people or educated people. We have to think like poor people, too."
He added, "Today Thai society must teach about cooperation. Different thoughts and arguments are allowed, but don't let them cause disputes. That way, we won't fall into the trap of democracy."
At today's ceremony, Gen. Prayuth was reunited with the teachers from his high school years. Per tradition, he knelt in front of them and offered a traditional "wai" to show his gratitude.
For comments, or corrections to this article please contact: [email protected]
You can also find Khaosod English on Twitter and Facebook
http://twitter.com/KhaosodEnglish
http://www.facebook.com/KhaosodEnglish