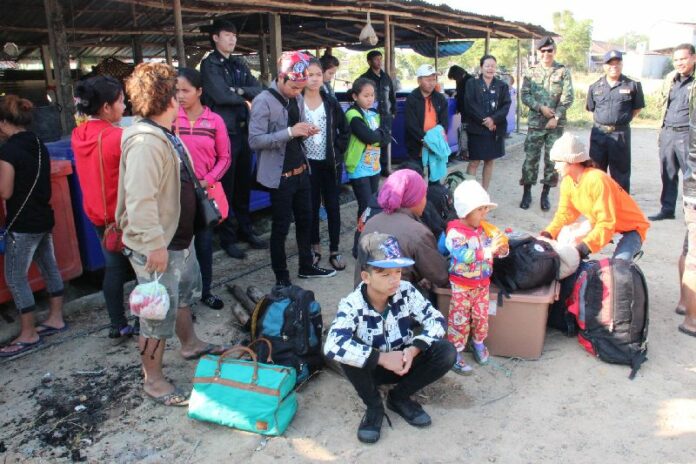 NAKHON RATCHASIMA — Soldiers in northeastern Thailand have detained 13 Cambodians who were allegedly working without permits at a meat processing plant in Nakhon Ratchasima province.
Col. Anusorn Nutsatit, deputy commander of the Internal Security Operation Command (ISOC) in Nakhon Ratchasima, led the raid on a factory in Mueang district today after police received a a tip-off from local residents about Cambodians working there illegally.
The soldiers detained 13 Cambodian workers and their families, and arrested the Thai owner of the meat processing plant.
The owner, Uthai Yan-asa, 27, said his factory suffered a labor shortage so he hired a broker to bring Cambodian nationals into the country illegally and work as his employees.
According to Uthai, he paid a middleman 1,000 baht for each worker brought across the border. The Cambodians also had to pay the dealer 3,500 baht each for the opportunity to work in Thailand, Uthai said. The Cambodian workers were reportedly paid based on how many kilograms of chicken meat they processed.
Col. Anusorn said the junta's National Council for Peace and Order (NCPO) has relaxed regulations on migrant workers and encouraged employers across the country to register their workers properly, yet some employers still refuse to comply.
"We will continue to monitor the situation strictly, in order to arrest any employers who refuse to comply with the law," Col. Anusorn told reporters.
Since the military seized power on 22 May 2014, soldiers have been deployed across Thailand to take up a variety of law enforcement duties. They have arrested suspected drug dealers, extortionist beach vendors, and other criminals as part of the junta's effort to promote a "tough-on-crime" image.