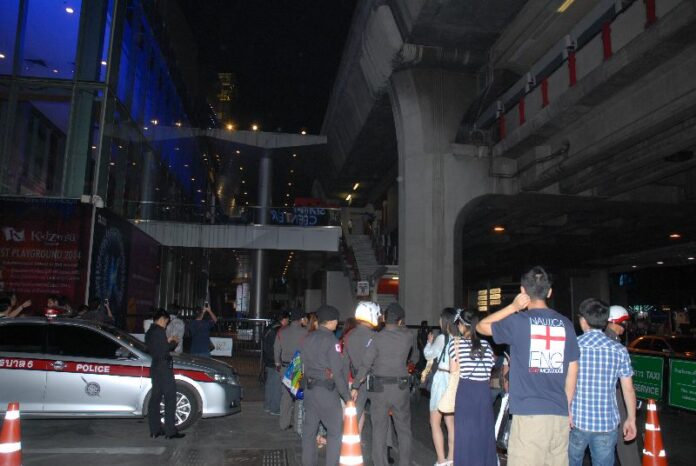 BANGKOK — A spokesperson for Thailand's military junta said he believes the double bombing in front of a shopping mall in Bangkok last night was not designed to harm anyone.
"It was an act of harassment and not intended to target any personnel," said Col. Winthai Suvaree, spokesperson of the junta, known officially as the National Council for Peace and Order. "The bombs were light-weight improvised explosive devices. They were not severe. Therefore, I would like to ask the public not to panic and have confidence that security officers can take care of the situation."
He also promised that authorities will identify and prosecute "those who caused nuisance to others by harassing and creating panic in society."

Thai bomb squad experts and forensic police inspect the site of two bomb blasts near a luxury shopping mall entrance in Bangkok, Thailand, 02 February 2015. EPA/NARONG SANGNAK
The two homemade bombs exploded at 8:10pm last night on the walkway that connects Siam skytrain station and Siam Paragon shopping mall, one of the largest shopping complexes in Bangkok. One person was slightly injured by the blast.
Police initially reported that the explosions were caused by a malfunctioning electric transformer, but later clarified that two IEDs placed behind the transformer were responsible for the blasts.
Gen. Anupong Paochinda, Minister of Interior Affairs, echoed Col. Winthai's comment by telling reporters today that the double explosions were most likely and act of "harassment" and not intended to kill anyone.
He said the Ministry of Interior Affairs did not receive any intelligence about the incident, but added that security officers will tighten security measures to prevent any further attacks.
"The country is moving forward very well, in terms of economics and tourism," said Gen. Anupong. "I hope such an incident will not happen again."
The incident has drawn heavy attention, as the double bombing took place in the heart of Bangkok's financial center and while the nation remains under martial law.
Since seizing power on 22 May 2014, the ruling military junta has touted martial law as a necessary means to restore peace and order and end the series of grenade attacks and shootings that occurred during the six months of anti-government protests that preceded the coup.