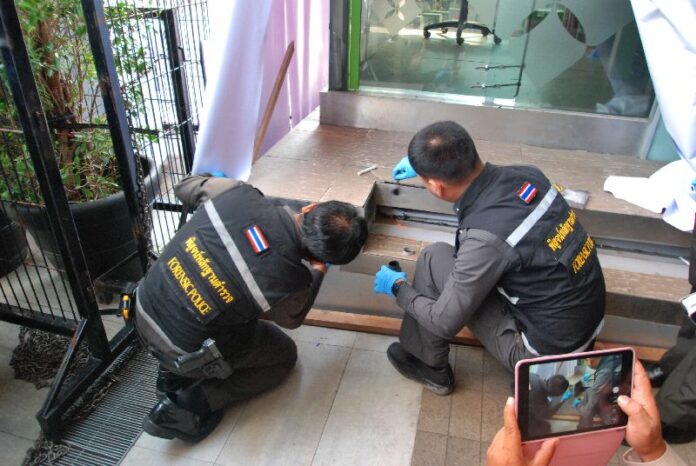 BANGKOK – Thailand's military leader has ordered police to determine whether anti-government elements were behind the double bombing outside of a high-end shopping mall in Bangkok last night.
Junta chairman and Prime Minister Prayuth Chan-ocha said at a press conference today that it is still too early to say whether the attack was politically-motivated, but that police are investigating people who are "opposed to the operations of the government."

Damage caused by two IEDs in front of Siam Paragon on 1 Feb 2015.
"We have to look at people who have spoken about using violence [recently]. We have to investigate whether there is any connection," Gen. Prayuth said. "I have instructed police to investigate this matter also, the people who said something about violence or opposing the operations of the government."
He continued, "This kind of matter is not about politics. It's about breaking the laws. Even though there may be difference in political opinion, violence is unacceptable, because it violates the laws. Everyone has to understand that politics and breaking the laws are separate. Don't give credit to people who break the laws."
Two homemade explosives went off on the walkway that connectsSiam skytrain station and Siam Paragon shopping mall, one of the largest shopping complexes in Bangkok, at 8:10 pm last night. One person was slightly injured by the blast.
Police initially reported that the explosions were caused by a malfunctioning electric transformer, but later clarified that two IEDs placed behind the tranformer were responsible for the blasts.
The incident has drawn heavy attention, as the double bombing took place in the heart of Bangkok's financial center and while the nation remains under martial law.
Since seizing power on 22 May 2014, the ruling military junta has touted martial law as a necessary means to restore peace and order and end the series of grenade attacks and shootings that occured during the six months of anti-government protests that preceded the coup.
Asked whether he believes the double bombing was intended to damage the credibility of the government, Gen. Prayuth retorted, "Everyone knows the answer to that question. Otherwise they would have done it in a jungle. Why the hell are you asking this?"
In response to a question about whether martial law needs to be extended because of the bombing, the general said, "I have already said that there are many laws we can use. It's a danger to people who break the laws."
Yesterday before the bombing, Gen. Prawit Wongsuwan, a member of the junta and Minister of Defense, suggested that Gen. Prayuth may repeal martial law and instead resort to Article 44 of the interim charter, which allows the junta to intervene in the administration of the country in matters related to "national security."