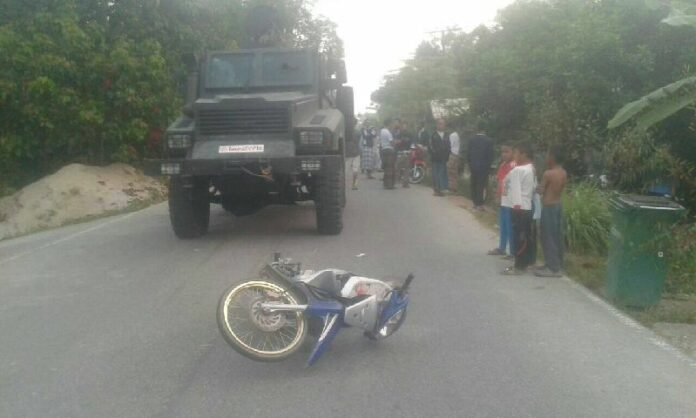 NARATHIWAT — A village chief survived a shooting at point-blank range by separatist insurgents in the southern border province of Narathiwat early this morning, police say.
According to police, Yaworhe Laere (name transcribed from Thai text), was riding a motorcycle on Batapase – Kampongbaru Road in Bukit district when two assailants on a motorbike caught up with him and shot him twice.
Yaworhe fell from his motorcycle and was later sent to a hospital by motorists who found him on the road. Police say Yaworhe, who is the chief of Kampongbaru village, survived the wounds.
Pol.Lt.Col. Korkiat Maneechote, an officer at Cho Airong Police Station, said the suspects fled the area before officers arrived at the crime scene. He believes that the gunmen were "ill-intentioned people who want to cause daily incidents in the area," a euphemism used by security officers to describe local militants who have launched regular attacks in Thailand's southern border provinces as part of a decade-long insurgency.
Since early 2004, Islamic insurgents have been fighting security forces in the Deep South with frequent drive-by shootings and roadside bombs. The insurgents also occasionally target civilians that are perceived to be "instruments" of Thai state, such as public school teachers and village chiefs.
More than 6,200 people have been killed in the simmering conflict according to data compiled by civil rights groups.