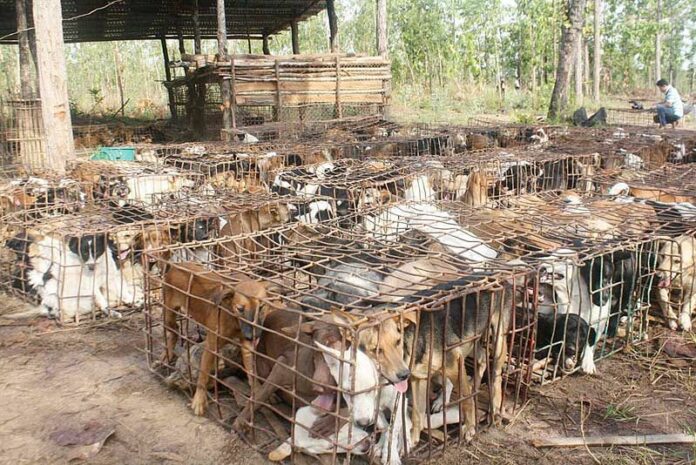 NAKHON RATCHASIMA — Police have arrested three men who allegedly beat a stray dog to death in Nakhon Ratchasima province during their attempt to kidnap the dog for consumption.
Pol. Col. Yongyot Polladej, superintendent of Ma Roeng Police Station, said the arrests followed complaints from local residents who saw the suspects attack a stray dog and drag its bloodied body onto a motorcycle five months ago.
CCTV footage clearly captured the incident and the identities of the four suspects, Pol.Col. Yongyot said. Three of the men were arrested yesterday, and police are looking for the fourth suspect, who is believed to be a soldier serving in Bangkok, Pol.Col. Yongyo said.
The arrested suspects were identified as Samart Plaekrathok, 22; Teerasak Koworaklang, 22; and Likhit Srirasksa, 22.
Because the group committed the crime last September, they have been charged with violating Section 381 of the Criminal Codes, which punishes killing animals inhumanely with up to one month in prison and 1,000 baht fine. The law was recently enhanced by the Animal Welfare Act, passed by the junta's interim parliament last November, which raises the penalty to two years in prison and 40,000 baht fine.
"The suspects committed the crime under the older law," Pol.Col. Yongyot explained.
According to Pol.Col. Yongyot, Samart confessed that he and three other friends went out drinking on the night of 24 September, 2014. He reportedly told police that they drunkenly came across the dog, and decided to kidnap it "for cooking."
Samart confessed that he and his friends beat the dog with a large piece of wood until it died, then carried the dead body on motorcycle to be cooked.
Dog meat is consumed in some parts of northeastern Thailand.