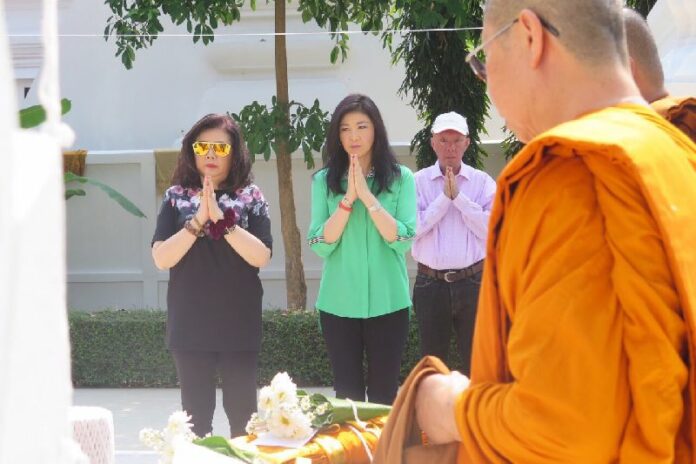 BANGKOK — Former Prime Minister Yingluck Shinawatra's lawyer has asked the Thai military to stop trailing the former leader, which he called an infringement of her rights to privacy and freedom of movement.
The lawyer, Norawich Lalaeng, was referring to the soldiers who stopped and searched Yingluck's convoy in Chiang Mai province yesterday and followed her for the rest of the day to a temple and market. While the military insisted that the soldiers were merely providing security, Norawich said Yingluck never requested the "protection," and felt threatened by the gesture.
"The police officers and soldiers followed her all day. Even at night, soldiers were posted around her residence," Norawich told Khaosodtoday. "Such action may not have been a direct attempt to detain her, but it could be seen as indirect detention. It infringes on her privacy, and it restricts her individual rights and freedom. If security forces want to provide us with VIP protection like they said in the news, they should coordinate with us directly, so both sides will be relieved."
Norawich also insisted that Yingluck has complied with all of the conditions set by the National Council for Peace and Order (NCPO) since it seized power on 22 May 2014, such as refraining from "inciting any chaos" or participating in political activities.
"As the legal representative of Ms. Yingluck, I'd like to urge all relevant authorities, such as the military and the police, to stop infringing Ms. Yingluck's rights and freedom that are guaranteed in the constitution," he said.
Norawich also urged the military junta to lift its travel ban on Yingluck and allow her to fly to Hong Kong as she requested last week. The NCPO denied her travel request, citing the criminal lawsuit she is currently facing for allegedly failing to stop corruption in her administration's rice-pledging scheme.
However, Norawich argued that judicial authorities are only permitted to issue travel bans on defendants who have been formally indicted, according to court regulations.
"The Office of Attorney-General has said that it will take about a month to write her indictment, and estimated that she will be formally indicted in March," Norawich said. "So Yingluck understood that between the period of 10 and 21 February, she would be able to use her rights and freedom to travel abroad."
There is speculation that the NCPO rejected Yingluck's travel request out of fear that she may follow in her brother's footsteps and flee the country to evade the lawsuit. Yingluck's brother, former Prime Minister Thaksin Shinawatra, was deposed in a military coup in 2006 and has lived in self-imposed exile since 2008 to avoid a corruption charge of which he was found guilty in absentia. Thaksin has several residences around the world, including one in Hong Kong.
Last month, Yingluck was also retroactively impeached for the same offense by an interim parliament appointed by the junta. The verdict, which Yingluck's supporters say was an effort to cripple her political faction, came with an automatic five-year ban from political office. The Office of Attorney-General announced that it would press criminal charges against Yingluck on the same day of the impeachment vote.
Yingluck was initially ousted from the premiership last May by the Constitutional Court, which found her guilty of unlawfully transferring a government official in 2011. Two weeks later, Gen. Prayuth Chan-ocha, who was serving as army chief at the time, dissolved what was left of her government in a coup d'etat. He was later appointed Prime Minister by a rubber stamp parliament in August.
For comments, or corrections to this article please contact: [email protected]