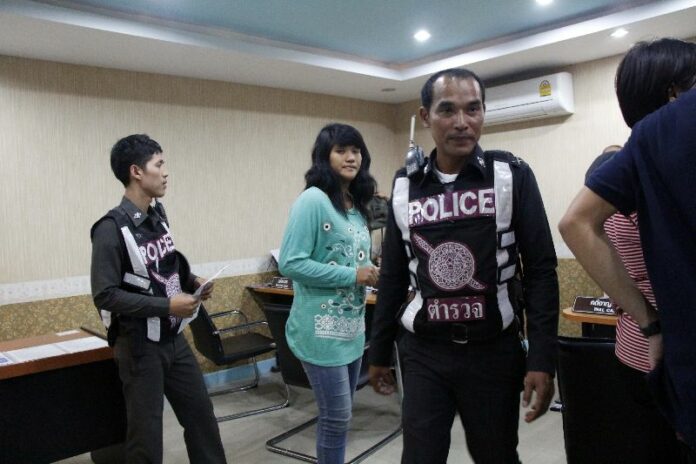 PATTAYA – Police say they have arrested a 23-year-old woman who was charging tourists in Pattaya to pose for photos with an endangered primate.
Narumol Insa-art was arrested in downtown Pattaya with a slow loris, a small primate with large eyes that is native to Southeast Asia and listed as a protected species.
She has been charged with illegal possession of a protected species under Thailand's new Animal Welfare Act, passed by the junta's lawmaking body last November.

The slow loris confiscated by police from a woman in Pattaya, 19 Feb 2015.
Police say Narumol charged tourists 100 baht each to take a photo with the animal, which authorities have brought to a local wildlife center.
The slow loris, whose population has declined nearly 80% in recent decades, is a popular item on the black market in Thailand, where it is sold as an exotic pet.
The American pop star Rihanna made headlines last year when she published a photo of herself holding a loris during a trip to Phuket. The photo, published on Instagram, was captioned "Look who was talking dirty to me!" and reportedly led Phuket police to arrest the animal's owners.
Thailand is known as a hub for animal tourism, with abundant opportunities for tourists to pay to interact with exotic animals like tigers, elephants, and gibbons. Animal welfare groups say many of these captive animals are physically mistreated and some of them have been taken by poachers from the wild.
The Animal Welfare Act, passed in November 2014, is the first piece of legislation in Thailand to criminalize animal cruelty.
For comments, or corrections to this article please contact: [email protected]
You can also find Khaosod English on Twitter and Facebook
http://twitter.com/KhaosodEnglish
http://www.facebook.com/KhaosodEnglish