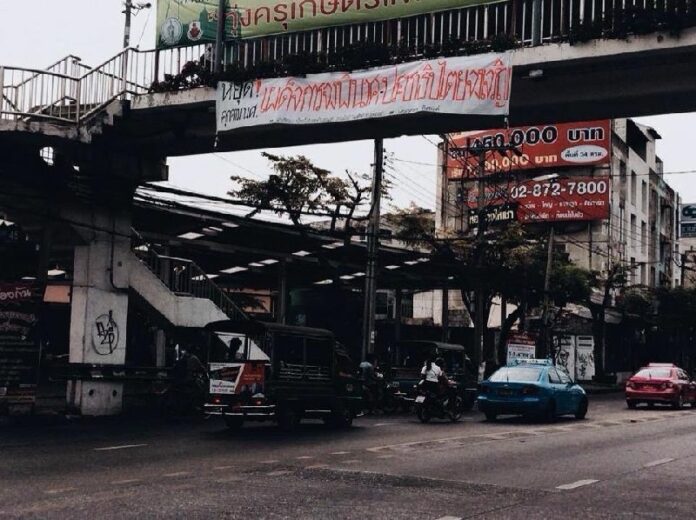 BANGKOK — In an effort to evade the Thai junta's ban on political protests, student activists in Bangkok have taken to expressing dissent through anonymous banners hung around the city.
At least two banners have been strung across pedestrian bridges in Bangkok over the past three days, bearing stern words for the Thai junta that seized power in a coup last May.
The first banner, hung near Bangkok University on Tuesday, said "Stop Abusing Students," following the arrest of a student activist and several others who organized a rare pro-democracy demonstration in downtown Bangkok on Saturday.
The second banner (above), hung early this morning near King Mongkut's University of Technology, said "Down With Dictatorship – Long Live Democracy." Text at the bottom of the banner warned: "This banner cannot self destruct, unless it is removed by a lackey of a dictator."
Both banners were removed by security officers several hours after they were erected. A student activist, who wished to remain anonymous, confirmed to Khaosod English that the banners were hung by student groups.
Since the May 2014 coup, several dozen student activists have posed the most consistent public challenge to the Thai junta, which has banned all political demonstrations and criticism of its regime.
Although the military takeover was initially met with sizeable protests in Bangkok, the budding anti-coup movement was quickly squashed after soldiers began arresting demonstrators and sending them to face trial in military courts.
Only a small network of student activists, mostly in Bangkok, have continued to stage regular demonstrations, which are nearly always broken up by soldiers and often end in arrest.
While the students are normally briefly detained in army camps before being released without charges, Siriwit Serithiwat, the student arrested on Saturday for organizing a mock election, has been charged with defying the junta's ban on protests and is expected to face trial in military court.
Hanging anonymous banners is not the first time student activists have sought to circumvent the junta's strict ban on public dissent. They have also organized "picnics" (which later led authorities to ban "eating sandwiches with anti-coup intent"), public read-ins of George Orwell's 1984, and mass viewings of the Hunger Games movie, which became associated with the anti-coup movement after demonstrators adopted the film's three-finger salute last May.
Earlier this month, students at Thammasat University used elaborate disguises to sneak parade floats that were critical of the junta past security officers who were monitoring their annual pre-football match parade.
For comments, or corrections to this article please contact:[email protected]
You can also find Khaosod English on Twitter and Facebook
http://twitter.com/KhaosodEnglish
http://www.facebook.com/KhaosodEnglish