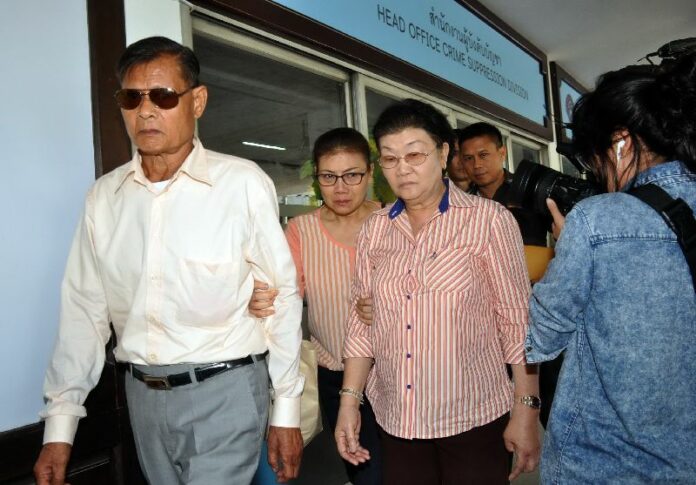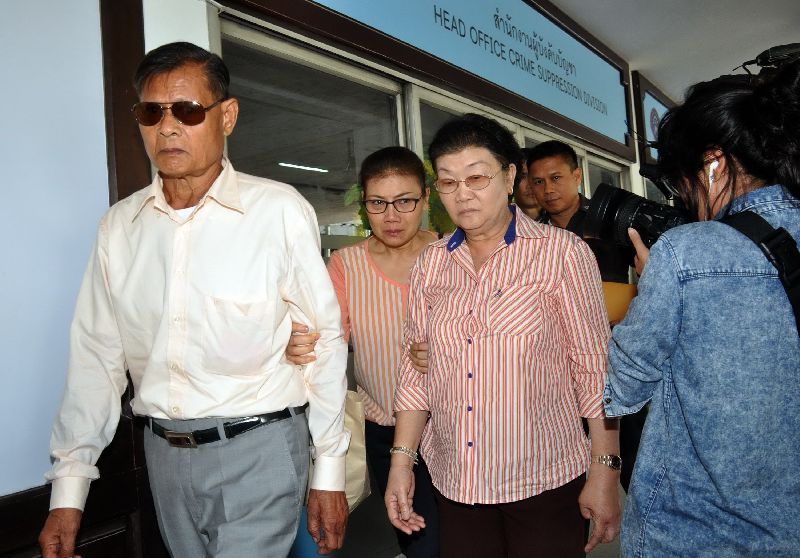 BANGKOK — The parents of former princess Srirasmi have been sent to await trial in jail after they confessed to charges of defaming the Thai monarchy today, reversing their earlier pleas of innocence.
Apiruj and Wantanee Suwadee were accused earlier this month of using their royal connections to have a woman in Ratchaburi province jailed for 18 months on a bogus fraud conviction.

Apiruj, Panita, and Wantanee Suwadee at the Crime Suppression Division in Bangkok, 27 Feb 2015.
The pair was charged with lese majeste (insulting the monarchy), which is punishable by up to 15 years in jail.
Apiruj, 72, and Wantanee, 66, met with police on 9 February and vehemently denied the charges, telling the officers that they had never met their accuser before. But in a meeting with police in Bangkok today, the couple withdrew their pleas of innocence and confessed to the crime.
"We have confessed everything," Wantanee said to reporters after the meeting, "What I have done, what I have said, I did not mean it. That is all. I have confessed to every allegation. I don't want to say much. I only would like to say that I still love and revere the monarchy."
Her husband told reporters, "I repent my crimes. I don't know what I should say. I now repent the things I have done without thinking."
The pair was then taken to the Criminal Court, where judges denied their requests for bail after police argued that the couple might attempt to intimidate witnesses or flee the country.
The court ordered the two suspects to be remanded for 12 days, after which they can apply for release on bail again. Apiruj has been taken to Bangkok Remand Prison, while Wantanee will be jailed at Central Women Prison.
Pol.Maj.Gen. Thitirat Nongharnpitak insisted that Apiruj and Wantanee were not pressured into confessing.
"No one forced them to," said Pol.Maj.Gen. Thitirat. "No one coerced or threatened them in any way."
Apiruj and Wantanee are the latest members of former Prince Srirasmi's family to be charged with lese majeste over the past few months. In one of the biggest scandals to rock the palace in recent years, Srirasmi resigned from the Royal Family in December 2014 after her brother, sister, and uncle were arrested on charges of lese majeste and running a massive crime ring.
Panita Suwadee, a different sister of the former princess who accompanied her parents to the police headquarters today, insisted that no members of the Royal Family were aware of the alleged crime syndicate run by Srirasmi's uncle, Pol.Lt.Gen. Pongpat Chayaphan.
"I'd like all of you [the media] to understand about the monarchy. All of the things that happened, the monarchy was not aware of them at all," Panita said. "Our family doesn't know about it either. We have been serving the monarchy with our loyal hearts. So I'd like you to know that all the illegal casinos and other cases are not connected to the monarchy at all. They are connected only to Pongpat. He claimed his ties to the monarchy on his own."
Police have identified Pol.Lt.Gen. Pongpat and Srirasmi's brother, Maj. Nattapol Suwadee, as the masterminds behind a massive graft ring involved in racketeering, operating illegal gambling dens, and oil smuggling.
After her royal resignation, Srirasmi moved out of the Crown Prince's palace in Bangkok to live with her parents in Ratchaburi province and has not been seen in public since 13 December, when she applied for a new national ID card as a commoner. She later issued a statement requesting privacy from the crowd of reporters who were camping in front of her residence.
It is unclear whether Srirasmi and the Crown Prince are formally divorced. The couple married in 2001 and have one 9-year-old son.
For comments, or corrections to this article please contact:[email protected]
You can also find Khaosod English on Twitter and Facebook
http://twitter.com/KhaosodEnglish
http://www.facebook.com/KhaosodEnglish