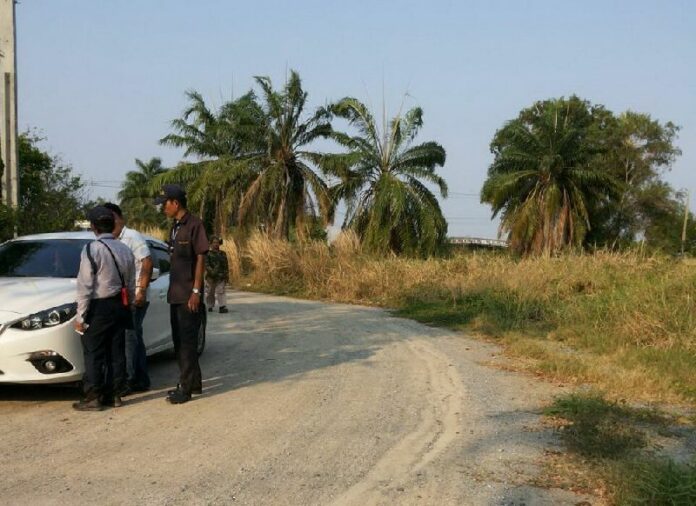 BANGKOK — A woman who initially claimed to have been abducted because of her connections to Thailand's former Central Investigation Bureau (CIB) chief has retracted her story, police say.
Chanita Ginnit, 38, was found on Friday with her hands tied together in a field near a golf course in Samut Prakarn. She was discovered by a security guard and later told police she was abducted from a shopping mall in Bangkok by a group of men who beat her and left her to die.
Chanita also told police she believed the abduction was motivated by her connections to ex-CIB chief Pol.Lt.Gen. Pongpat Chayapan, who is embroiled in several criminal cases for his role as the alleged leader of a massive crime syndicate.
However, police say Chanita retracted her story today, claiming the abduction was staged in an attempt to "get attention from her boyfriend."
"After we interrogated her, she confessed that she made up the whole story to get attention from her boyfriend," said Pol.Col. Akhradetch Pimolsri, commander of the Crime Suppression Division. "Her claim about being an heir to a billionaire businessman and her ties to Pol.Lt.Gen. Pongpat were also untrue."
Police began to doubt Chanita's account after other witnesses' testimonies and evidence contradicted her story.
A taxi driver told police he was hired by Chanita and a male companion to drop them off at the golf course, and that she showed no signs of being coerced. CCTV footage from the shopping mall in Bangkok where Chanita said the abduction took place also showed the pair get into a car willingly, the officer told reporters today.
The male companion who helped stage the abduction has been arrested, Pol.Col.Akhradetch said.
The current head of the CIB, Pol.Lt.Gen. Thitirat Nonghanpitak, said he suspects the fake abduction stunt might have been a part of a scheme to extort money from someone.
"It could have been a plan that intended to target someone's money, but it is not clear who was being targeted by the perpetrators," Pol.Lt.Gen. Thitrat said, "As for Ms. Chanita, our investigation reveals that her original surname was Patan. She lives in Chonburi province. She has changed her surname more than 10 times. We are urgently collecting information to determine why she has changed her surname for so many times, and whethe her action constitutes a scam."
For comments, or corrections to this article please contact:[email protected]
You can also find Khaosod English on Twitter and Facebook
http://twitter.com/KhaosodEnglish
http://www.facebook.com/KhaosodEnglish