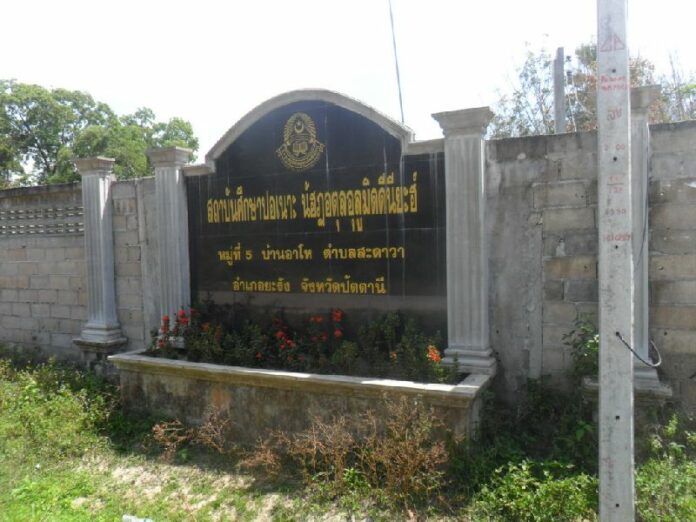 PATTANI — A Muslim cleric in the restive province of Pattani says he was mistreated by Thai police who claimed to find several assault rifles at his religious school last month.
In a press conference yesterday, Marobi Niseng, a cleric and owner of Nahtatul Ulumidiniyah madras in Yarang district of Pattani, said Thai security forces falsely accused him of of possessing four assault rifles and one handgun after raiding the madras on 18 February.
According to the military's statement at the time, security officers discovered the weapons inside the religious school. The raid was conducted after military and police officers recieved information that a high-ranking militant was hiding in the district around the madras.
Security officers also said they found bomb-making equipment inside the school.
Marobi said yesterday that he and his family were relaxing in their house, which is located inside the madras compound, on 18 February when more than a hundred black-clad, armed security officers arrived. The security officers rounded up everyone outside while they searched the property, Marobi said.
"The security officers searched every corner of my house. They even searched my bed three times," the cleric said.
According to Marobi, the officers eventually presented several assault rifles and told him to pose for a photo next to them, even though the weapons were in fact discovered in the wooded area 200 meters away from the religious school.
Pol.Col. Somboon Puangmalai, superintendent of Yarang Police Station, admitted yesterday that the weapons were found "outside the area of the madras" but did not elaborate any further. He also told Khaosod there is no evidence that links the weapons with Marobi at the moment.
"Currently, we are waiting to see whether the results of fingerprints and DNA tests match anyone," Pol.Col. Somboon said.
Speaking at yesterday's press conference, Marobid described being taken to Wang Phaya army ranger camp that night for interrogation, where security officers allegedly mocked his Thai accent and threatened to throw him in jail for 20 years.
"They were rude at me. They said how can I be a Thai when I cannot even speak Thai properly. I told them at the very beginning that my Thai isn't good, but they insisted on asking questions in Thai to me," Marobi said, "But what really concerns me wasn't the mocking of the officers. It was the officers threat that I would be jailed for 20 years, and that my madras will be closed down. I couldn't accept that. They accused me so strongly. I had nothing to do with those things. Why would I? How would it benefit me or my students if I do that?"
Marobi said he was later released, but authorities ordered his madras to close down for two months. The state education agency in the province also cut funding to the school because of its alleged ties to the insurgency, Marobi told the press. His wife also suffered psychological trauma from the raid and is now receiving treatment from a local clinic, according to the cleric.
"It angers many people in the area," Marobi added.
More than 6,000 people have been killed since waves of secessionist violence broke out Thailand's southern border provinces in early 2004, according to data compiled by human rights groups. The bloody campaign has been waged by Islamic insurgents seeking to revive the independent sultanate of Pattani, which was incorporated into modern day Thailand in the early 20th century.
Contrary to the rest of the Buddhist-prevalent Thailand, the Deep South is heavily populated by Muslims who trace their ancestry to the Malays and speak a distinct dialect called Yawi.
Waedueramae Mamingi, chairman of the Central Islamic Committee in Pattani, said security officers should avoid causing ill feelings to local residents in their search operations, as it may contribute to further division in the region.
"Today everyone is trying to build a space and atmosphere of dialogue and peace," Waedueramae said.
For comments, or corrections to this article please contact: [email protected]