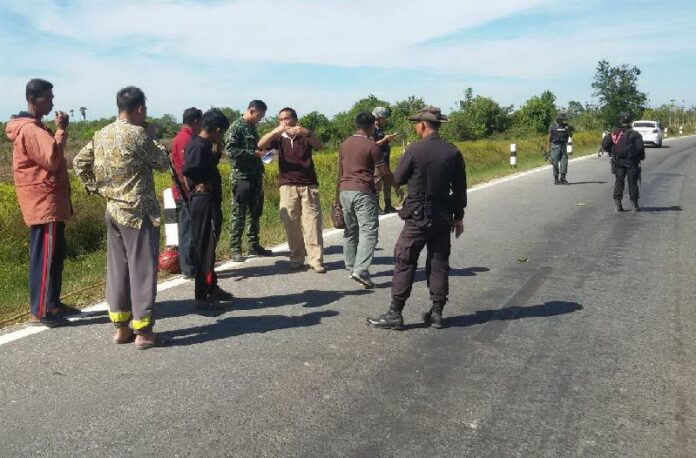 PATTANI – Police say four security officers and two civilians were injured by a homemade bomb that targeted a group of Buddhist monks in the southern border province of Pattani this morning.
The blast occurred at Taluban intersection in Saiburi district at around 7 am today, police officers at Saiburi Police Station say.
According to police, a squad of border patrol police was escorting Buddhist monks during their morning walk to collect alms and food when the bomb went off. The bomb was reportedly placed in a rubbish bin on the side of the road.
Four police officers and two civilians were injured by shrapnel, police told reporters. Police officers say they believe the bomb was planted by "violent individuals," a common way to describe the Islamic insurgents that operate in the three southern border provinces of Pattani, Yala, and Narathiwat – a region known as the Deep South.
More than 6,000 people have been killed since waves of secessionist violence broke out in the region in early 2004, according to data compiled by human rights groups. The insurgents aim to secede the region from Bangkok and revive the independent sultanate of Pattani, which was incorporated into modern day Thailand in the early 20th century.
Contrary to the rest of the Buddhist-prevalent Thailand, the Deep South is heavily populated by Muslims who trace their ancestry to the Malays and speak a distinct dialect called Yawi.
On the same day, two civilians were shot and injured by unidentified gunmen as they were riding motorcycle on a road in Pattani province, police say. According to police reports, the two were ambushed at around 4 pm, and the motive behind the attack is currently under investigation.
For comments, or corrections to this article please contact: [email protected]