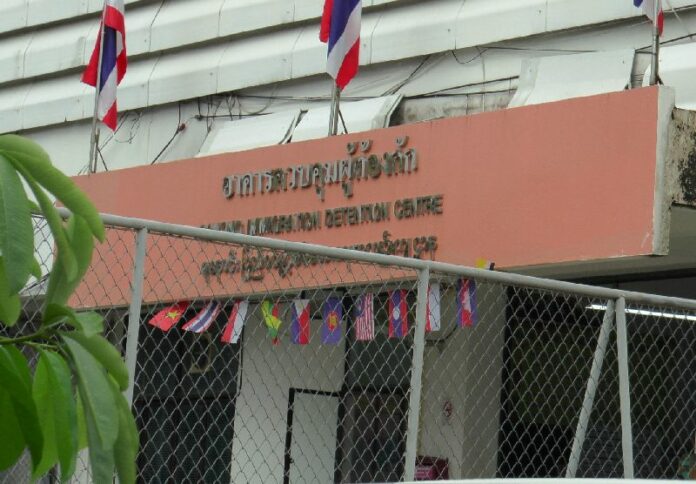 RANONG — Thai police reportedly rescued five Rohingya migrants from a sinking fishing boat near the Thai – Burmese border in Ranong province this morning, one day before Thailand will host an international summit on the humanitarian crisis posed by the thousands of migrants who have fled the Bay of Bengal this month.
Border patrol officers received a report from residents on Tra Krut island at around 6:30 am about five migrants swimming in the sea, said Lt.Gen. Kunnawuth Mokaew, a commander of the Internal Security Operation Command (ISOC) in Ranong.

The five Rohingya migrants rescued by Thai police off the shore of Ranong province on 28 May 2015.
The lieutenant general described the five as Rohingyas, a Muslim minority that has fled persecution in Buddhist-majority Myanmar in droves since religious riots broke out in 2012.
Police rescued the group and brought them ashore, Lt.Gen. Kunnawuth said. He told reporters the migrants had been traveling on a small fishing boat without an engine from nearby Myanmar, and decided to abandon the boat after it began to sink off the coast of Tra Krut island.
The group consisted of four adult men, aged 45, 36, 27 and 30, and one 8-year-old boy, Lt.Gen. Kunnawuth said. They have been transferred to a detention facility in Ranong to determine whether they are victims of human trafficking.
"If found to be victims of human trafficking, agencies under the [Ministry] of Social Development and Human Security in Ranong province will provide them with help and protection," Lt.Gen. Kunnawuth explained. "We will consider what will benefit the victims, and their mental and physical conditions."
If the migrants are determined not to be victims of trafficking, they will be charged with illegal entry to the Kingdom, prosecuted in court, and slated for deportation.
Reporters were not allowed to observe the questioning process at the detention facility. Officials from the Ministry of Social Development and Human Security also declined to give interviews as they left the center, saying they were told by their directors not to speak with reporters.
Thailand is set to host an international summit tomorrow on the regional migration crisis, which was triggered by a crackdown on human trafficking networks in southern Thailand in early May. For years, Thailand has been key a stop over for smugglers moving migrants into Malaysia.
More than 3,000 migrants, most of whom are Rohingyas fleeing state-sanctioned discrimination in Mynamar and Bangladeshis escaping poverty, have landed on Indonesian and Malaysian shores since 1 May, and several thousand are thought to still be at sea. Most of the boats were abandoned by their smugglers after word of the crackdown spread.
In the past few weeks, Thai and Malaysian police have discovered several dozen jungle camps along the border used to detain migrants and extort their relatives for ransom. Hundreds of graves of suspected trafficking victims have been found nearby.
Thai police have issued 77 arrest warrants and arrested 49 people in connection to the human trafficking network. The suspects include bureaucrats, local politicians, and police officers.
Human rights organizations and journalists in the region say Thai authorities have long known about the camps and trafficking rings, but turned a blind eye in exchange for bribes. A recent report published by the BBC alleged that entire communities in some parts of southern Thailand are complicit in the trafficking networks, with residents working as guards and food fetchers.