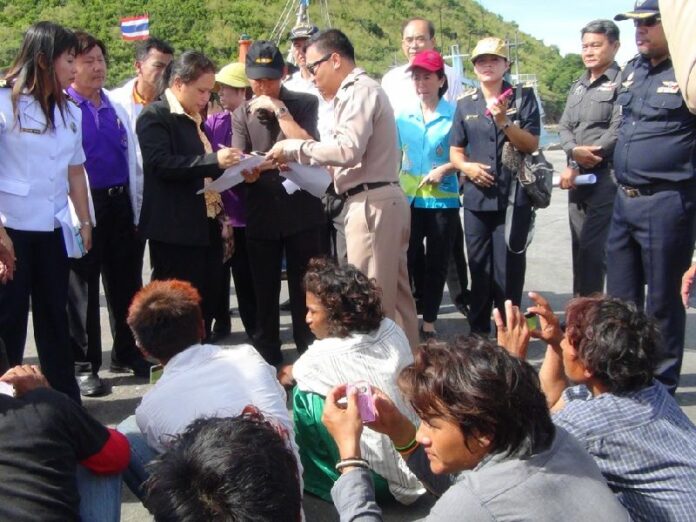 BANGKOK — Police have issued the first arrest warrant for a Thai army officer in connection with a crackdown on human tracking that began one month ago.
According to the warrant, 58-year-old Maj.Gen. Manas Kongpaen aided trafficking operations in southern Thailand that involved detaining Rohingya and Bangladeshi migrants in jungle prisons until their relatives paid pricey ransom fees. The migrants who survived the abuse and managed to secure the funds were then smuggled overland into Malaysia.

Official portrait of Maj.Gen. Manas Kongpaen from Royal Thai Army website.
The warrant said the operation began in May 2012 and lasted until 1 May 2015, when Thai police discovered the first of several abandoned jungle camps and mass graves along the Thai-Malaysian border.
More than 80 people have been charged with human trafficking in the past month – including police officers, bureaucrats, and local administrators – but Maj.Gen. Manas is the first army officer to be implicated in the criminal network.
He has been charged with human trafficking, assisting aliens in illegal entry to the Kingdom, illegal detention, and holding individuals for ransom.
Human rights groups say Thai authorities have long-protected and even participated in trafficking operations, often in exchange for bribes.
Maj.Gen. Manas, who was previously based in Songkhla province, is currently residing at the Fourth Region Army's headquarters in Nakhon Si Thammarat, said Pol.Maj.Gen. Kiattipong Khaosam-ang, the commander of the province's police force.
According to Pol.Maj.Gen. Kiattipong, police are waiting for the military to hand over Maj.Gen. Manas because "he is a high-ranking officer."
"We have not received any word from the military so far," Pol.Maj.Gen. Kiattipong said today.
Maj.Gen. Manas also told Khaosod briefly on the phone that he is not ready to give any comment at the moment.
According to his military records, Maj.Gen. Manas has commanded several units in his career, including the 25th Infantry Regiment in 2005-2006, a counter-insurgency force in southern Thailand in 2007, and the 42nd Army District in 2008-2009. He is currently listed as a "special expert" in the Royal Thai Army.
Although Thai army chief Gen. Udomdet Sitabutr said on 11 May that he did "not know of any personnel in the army getting involved in the human trafficking of the Rohingyas," he admitted to Khaosod yesterday that he has been aware of Maj.Gen. Manas' criminal background "for some time now."
"I have been aware about this for some time now, but I chose not to disclose the information. So, the arrest warrant on Maj.Gen. Manas is not something surprising," Gen. Udomdet said.
He added that the army will set up its own disciplinary committee to investigate Maj.Gen. Manas and will not interfere with police's criminal investigation.
Junta chairman and Prime Minister Prayuth Chan-ocha, whom Gen. Udomdet succeeded as the army chief last year, declined to comment on the arrest.
"I haven't seen [the report] yet," Gen. Prayuth told reporters at the Government House today.
In a press conference yesterday, Pol.Gen. Aek Angsananont, deputy chief of the Royal Thai Police, said 84 arrest warrants have been issued and 51 suspects arrested in connection with the human trafficking operation since 1 May.
According to Pol.Gen. Aek, one of the suspects on the run has been arrested in Myanmar, and Thailand is seeking his extradition.