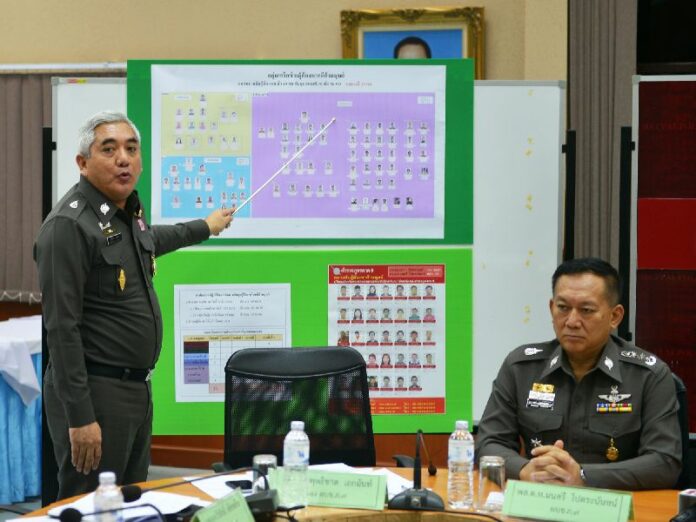 SONGKHLA — Police say they are still looking for ten assets belonging to the alleged ringleader of human trafficking operations in southern Thailand, who is currently in police custody along with 55 other trafficking suspects.
According to police, three Mercedes-Benzes and seven fishing boats owned by Patchuban Angchotipan, aka Ko Tong, have been missing since police charged him with human trafficking and illegal detention on 11 May. Patchuban, who is a former local administrative official and owns resorts in Satun province, surrendered to police on 18 May.
"Whoever is possessing these assets will also be guilty of money-laundering," said Pol.Gen. Aek Angsananont, deputy commander of Thai Police. He added that police have confiscated more than 200 million baht worth of assets from suspected traffickers since they launched a crackdown on the network in May.
Police say Patchuban is the leader of the crime syndicate that detained and abused foreign migrants in jungle prisons near the Thai-Malaysian border until their relatives paid hefty ransom fees. At least five of such detention camps, along with mass graves that contained hundreds of corpses, were discovered by Thai officers in May, prompting police to launch an unprecedented crackdown on the long-running human smuggling operation.
The migrants detained at the camps were mostly Bangladeshis and Rohingyas – a Muslim ethnic group that faces brutal persecution in western Myanmar – who were kidnapped or lured from their homes by traffickers. Many were ultimately seeking to settle in Muslim-majority Malaysia.
The crackdown in Thailand disrupted well-trodden trafficking routes and helped trigger a humanitarian crisis in the region, as thousands of migrants, no longer able to land in Thailand, were abandoned by their smugglers at sea. After weeks of rejecting the boat people, Malaysia and Indonesia agreed last month to provide the migrants with temporary asylum.
Over 5,600 Rohingya and Bangladeshi migrants have landed in Malaysia, Indonesia and Thailand since the crisis began in early May.
As of today, 89 arrest warrants have been issued by Thai police in connection with trafficking network, and 56 suspects are under arrest, said Pol.Gen. Aek. Those in custody include police officers, a high-ranking army general, and local bureaucrats.
Pol.Gen. Aek asked the public to contact police if they have any information about the suspects who are still on the run, and can be identified in the wanted poster (right) that police are hanging in southern provinces.
A trial for the arrested suspects is expected to being around 25 July, said Pol.Gen. Aek, adding that more than 230 witnesses will be called to testify against them.
"At the moment, we have discovered that some suspects have used their influence and henchmen to intimidate witnesses not to testify in court or identify the suspects as the perpetrators," Pol.Gen. Aek said. "The witnesses who have been intimidated have already filed charges with the officers, and we have issued three arrest warrants on those who intimidated the witnesses."
Asked to comment on Lt.Gen. Manas Kongpaen, a senior army commander who was arrested on 3 June, Pol.Gen. Aek said he is still being held in a prison to await trial, and has not received any privileged treatment.