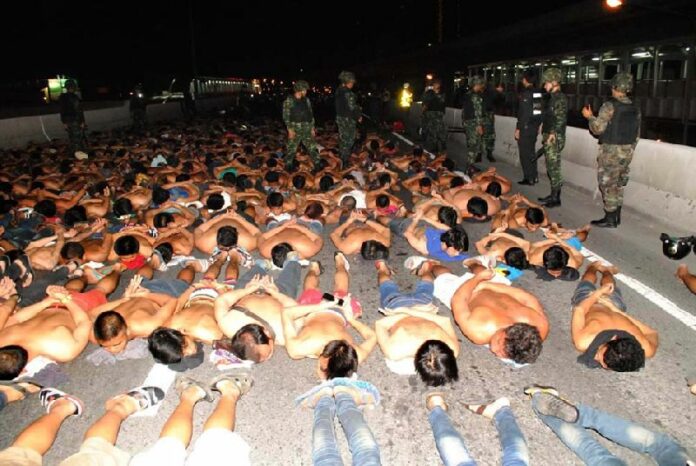 BANGKOK – Thailand's military leader is considering invoking his emergency powers to pass an order that would allow authorities to arrest teenagers who are preparing to illegally race motorcycles on the streets.
The proposal was submitted to junta chairman Gen. Prayuth Chan-ocha by Thailand's Minister of Justice, Gen. Paiboon Khumchanya, who said efforts to crack down on dek vans – teenage motorcycle gangs that often race on highways at night – have been hampered by the current law's definition of illegal street racing. At present, police can only arrest people for participating in street racing, he said.
"They have to wait for the group to arrive and start racing first, which society does not want to see," Gen. Paiboon explained. "So I will issue an order to make preparing for a race a crime. We won't let the kids start causing troubles on the road first and deal with them later. We want to put an end to it even before it starts, because preparation [for the race] leads to actual practice anyway."
He said the preemptive measures may include confiscating motorcycles from suspected racers in addition to the current penalties and fines. The parents of the young motorcyclists will also be punished, Gen. Paiboon told reporters.
Instead of asking the interim parliament to amend existing traffic laws, Gen. Paiboon has formally requested Gen. Prayuth authorize the measure through Section 44 of the interim charter, which grants the junta leader power to unilaterally enact any legally-binding order.
Gen. Prayuth has used Section 44 to issue orders that retain key components of martial law after it was repealed in April, such as the military's power to detain individuals without charge, ban political gatherings, and try civilians in martial court. He has also vowed to use the measure to "swiftly" solve pressing problems like land encroachment and human trafficking.
Speaking to reporters today, Gen. Prayuth said he is deliberating on Gen. Paiboon's proposal, but promised that authorities have no intention to harshly punish the teenagers.
"We aren't intent on killing them. They are still just kids, no matter what. Most of them are kids," Gen. Prayuth said. "Our [mission] is to find out why they are still racing out there. It's important to understand the fact that 40 percent of these people are outside the education system. They don't study, so they have a lot of free time. And the parents don't have time to be with their children or take care of them, they only give money to the children. Most of them use money on their motorcycles. This leads to social problems."
He continued, "I have said this many times: the first foundation is that families have to be strong. Schools have to help keep their eyes out for these people. Today we cannot only use power or laws. That will only solve problems temporarily."
Gen. Paiboon said he hopes the measure will be put in place by next week.
The Minister also recommended other efforts to help reduce illegal street racing, such as organizing races in stadiums and inviting psychiatrists to talk to the suspects who have been arrested.
Since staging a coup against an elected government in May 2014, the junta has sought to crack down on social vices and organized crime in a bid to shore up support. Soldiers have been regularly deployed to work alongside police as law enforcement officials.
In one of the largest crackdowns on dek vans in recent years, soldiers and police intercepted and arrested more than 400 young street racers in Bangkok on the night of 31 May.