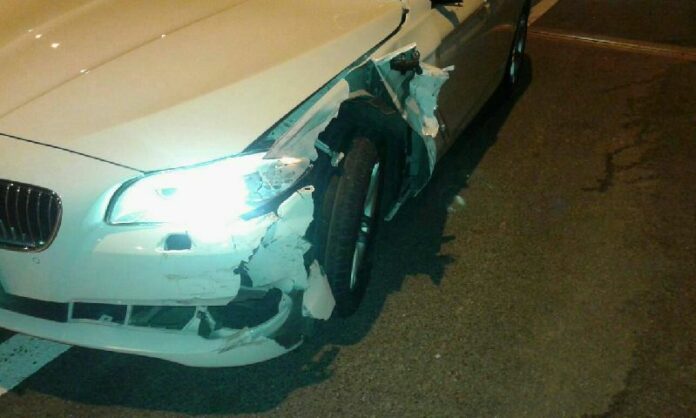 BANGKOK — Two policemen were injured by drunk drivers in two separate road accidents in Bangkok last night.
The first incident took place at around 11pm on New Phetburi Road, when traffic police asked a visibly intoxicated motorcyclist to stop at a checkpoint. Instead of braking, the motorcyclist reportedly accelerated and crashed into Adisak Doisap, a 40-year-old traffic police volunteer who had attempted to block the bike.
Adisak was treated for minor injuries at hospital and released last night.
The driver, Udon Buarapha, 27, was arrested and charged with driving under the influence after tests revealed that his blood alcohol content was above the legal limit.
The second incident took place within minutes of the first at an exit off of an expressway in Din Daeng district. Police said Pol.Lt. Sombat Phraethep, a traffic officer, was patrolling the highway on his motorcycle when a white BMW crashed into him from behind. His right leg and hip bone were fractured by the impact.
The driver, Waranchai Amornchaiyakul, 37, was arrested and determined to be driving under influence of alcohol, said Pol.Lt.Col. Teera Ruengnate, an investigative officer at Expressway 1 Police Station.
"[He said] he was changing to left lane and couldn't see the police officer," Pol.Lt.Col. Teera said, adding that Waranchai did not flee from the scene.
The suspect has been charged with a DUI, which carries a penalty of one year in prison under Thai laws. The the jail term can be raised to five years if the reckless driving leads to injuries, and ten years if it leads to deaths.
Drunk driving is a major cause of traffic accidents in Thailand. During the seven-day Thai New Year festival in April known as Songkran, intoxicated drivers were responsible for more than 1,000 accidents, according to statistics compiled by the Thai authorities.
The Transportation Research Institute ranks Thailand as the second most dangerous place to drive in the world, with a rate of 44 deaths per 100,000 people, a number nearly twice global average.
You can also find Khaosod English on Twitter and Facebook
http://twitter.com/KhaosodEnglish
http://www.facebook.com/KhaosodEnglish